5 Pineapple Extract Dessert Recipes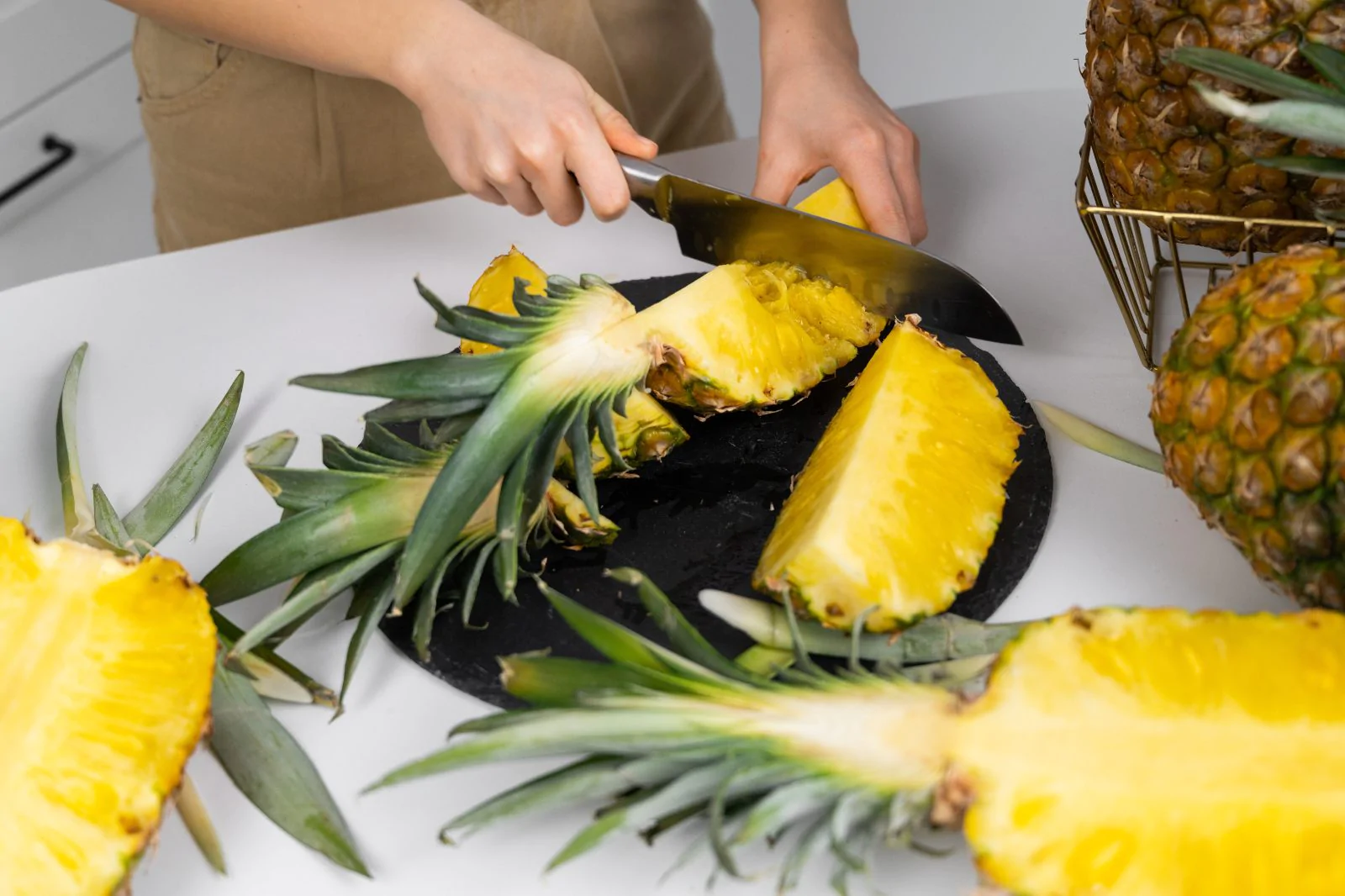 In this article, we're going to cover five easy pineapple dessert recipes using pineapple extract. All of these recipes are perfect for the sun-kissed days of summer and spring time. Checkout our pineapple extract that's only a click away.
Contents:
Pineapple Upside Down Cake Recipe
Pineapple Upside Down Cupcake Recipe
Pineapple Pie Recipe
Pineapple Sorbet Recipe
Pineapple Ice Cream Recipe
Pineapple Casserole Recipe
Pineapple Extract Upside Down Cake Recipe
Pineapple upside down cake for some reason always takes the cake when it comes to the hottest and most popular pineapple dessert recipe. For those of you who love the flavor but prefer cupcakes, we'll be sharing a recipe for a pineapple upside down cupcake recipe below.
Ingredients For Pineapple Upside Down Cake
1/4 cup of butter
cup packed brown sugar
9 pineapple wheels
Half to a Full Teaspoon of Pineapple extract
5 Drops of Cherry Extract
Half a Teaspoon of Vanilla Extract
9 maraschino cherries (make sure to destem!)
Yellow Cake Mix
Vegetable Oil
Eggs
Equipment
Step-By-Step Process
Set and Heat oven to 350°F 
Grab a 13×9-inch pan.
Melt the 1/4 cup of butter in oven.
Sprinkle brown sugar evenly over butter.
Arrange pineapple slices on brown sugar.
Place cherry in center of each pineapple slice, and arrange remaining cherries around slices
Press gently into brown sugar.
Mix the pineapple extract with water to fill a full cup  
Make cake batter as directed on box
Pour batter over pineapple and cherries.
Final Steps
Bake 42 to 48 minutes (44 to 53 minutes for dark or nonstick pan) or until toothpick inserted in center comes out clean.
Immediately run knife around side of pan to loosen cake.
Place heatproof serving plate upside down onto pan
Turn plate and pan over.
Leave pan over cake 5 minutes so brown sugar topping can drizzle over cake; remove pan.
Cool 30 minutes.
Serve warm or cool.
Store covered in refrigerator.
Recipe Pineapple Extract Upside Down Cupcakes
Ingredients for Pineapple Upside Down Cupcake Recipe
1.5 (8-ounce) cans pineapple slices in 100% pineapple juice
3 tablespoons unsalted butter, cubed
1/2 cup firmly packed light brown sugar
6 maraschino cherries
1.5 large eggs, room temperature
1 cups sugar – can substitute with honey
1/2 cup canola oil
1/2 teaspoon vanilla extract
1/2 teaspoon pineapple flavoring
1/2 teaspoon rum extract
1 1/4 cups all-purpose flour
1/4 teaspoon baking powder
1/4 teaspoon baking soda
1/4 teaspoon kosher salt
Equipment
Oven
Parchment Paper
Waxed Paper
6 Muffin Cup Tin
Small Saucepan
Large Bowl
Instructions
Preheat oven to 350 Fahrenheit
Line bottom of 6 greased jumbo muffin cups with parchment paper or waxed paper.
Pour pineapple juice out of canned pineapple slices but keep 1 tablespoon worth. 
In a small saucepan, melt butter over low heat to not burn the butter.
Stir in brown sugar and reserved pineapple juice.
Cook and stir over medium heat until sugar is fully dissolved. Remove saucepan from heat.
Add 1 tablespoonful of the brown sugar mixture into each muffin cup.
Place a pineapple ring into each cup and insert a maraschino cherry into center of each pineapple ring.
In a large bowl, beat eggs and sugar until thickened and yellow colored.
Beat in canola oil, vanilla extract, pineapple flavor and rum extract until smooth.
In another large bowl, combine flour, baking powder, baking soda, and kosher salt.
Add flour mixture to egg mixture and mix thoroughly.
Fill prepared muffin cups two-thirds full.
Bake for 28 to 32 minutes or until a toothpick inserted in the center comes out clean.
Cool for 5 minutes before inverting onto wire racks to cool completely. 
Pineapple Pie Recipe
How To Make Pineapple Pie
The best pineapple pie recipes are easy and not super time consuming.
Ingredients
1 sheet refrigerated pie crust
3/4 cup sugar (can be subbed with honey)
2 tablespoons cornstarch
1 cup water
1 package (3 ounces) pineapple gelatin
4 cups sliced fresh pineapple
1 teaspoon Pineapple Flavoring
Whipped cream, optional
Equipment
Oven
Heavy Duty Foil
Parchment Paper
9 Inch Pie Plate
Small Saucepan
Teaspoon
Instruction for homemade pineapple extract pie recipe
Step 1:
Preheat oven to 450°
Unroll crust into a 9-in. pie plate. Trim edge.
Line crust with a double thickness of heavy-duty foil or parchment.
Bake 8 minutes.
Step 2:
Remove foil; bake 5 minutes longer.
Cool on a wire rack.
In a small saucepan, combine the sugar, cornstarch, pineapple extract and water until smooth.
Bring to a boil; cook and stir until thickened, about 2 minutes. Remove from the heat.
Step 3:
Stir in gelatin until dissolved. Refrigerate until slightly cooled, 15-20 minutes.
Meanwhile, arrange pineapple in the crust.
Pour gelatin mixture over berries.
Final Step:
Refrigerate until set. If desired, serve with whipped cream.
Pineapple Sorbet Recipe
Fresh pineapple sorbet in 30 minutes! A perfect frozen creamy treat for cooling down this summer!
Ingredients for Pineapple Flavoring Sorbet
~5 cups fresh pineapple
1 teaspoon pineapple flavors
1 cup water
1 ½ cups sugar
1 teaspoon vanilla extract
1-2 tablespoons fresh lime juice
Equipment:
Food Processor
Large spoon
Rubber Spatula
Large Bowl
Whisk
Strainer
Freezer
Instructions:
Add water and pineapples to a food processor.
Pulse until mixture has a smooth consistency.
Place a fine mesh strainer over a large bowl. Add pureed pineapple to the strainer (1/4 at a time) and press with the back of a large spoon or a rubber spatula through the strainer to remove the seeds.
Repeat with remaining raspberry puree. Discard anything left in the strainer.
Add sugar, vanilla extract, pineapple flavor and lime juice to the pineapple juice in the bowl. Whisk until sugar is dissolved.
Freeze according to your ice cream maker's instructions.
Serve immediately for a soft-serve dessert OR transfer to a shallow container and freeze an additional 1-2 hours for a more firm sorbet.
Pineapple Ice Cream Recipe
How to make pineapple ice cream
In my opinion, this is the best pineapple ice cream recipe for home makers like myself. Best served on a simmer summer night or for a fun opportunity to show in front of your friends pot luck!
Ingredients for Pineapple Ice Cream Recipe
2 cups fresh or frozen pineapple, partially thawed
1/2 cup sugar
2 cups heavy whipping cream
1 cup half-and-half cream
2 teaspoons vanilla extract
1 teaspoon pineapple flavoring
Equipment
Blender
Large Bowl
Sitrring Utensil
Freezer
Containers
Instructions for Pineapple Ice Cream
Place pineapple in a blender
Cover and pulse until chopped
Transfer to a large bowl
Stir in sugar until dissolved
Stir in remaining ingredients until blended.
Pour mixture into cylinder of ice cream freezer
Transfer ice cream to freezer containers, allowing headspace for expansion.
Freeze 2-4 hours or until firm.
Pineapple Casserole Recipe
How to Make Pineapple Casserole
Ingredients for Pineapple Casserole
1/3 cup all purpose flour
1/2 cup sugar
1 (20 ounce) can pineapple tidbits drained 
1 (20 ounce) can crushed pineapple drained
1 teaspoon pineapple flavoring oil
1 cup shredded sharp cheddar cheese
1 cup shredded white cheddar cheese
1/2 cup butter melted
28-35 Ritz crackers crushed
Equipment
1 1/2 Quart Baking Dish
Whisk
Oven
Instructions
Preheat oven to 350 degrees. 
Grease a 9 inch square or 1 1/2 quart baking dish.
Whisk together flour and sugar together.
Stir in the pineapple, pineapple extract and cheddar cheese. 
Spoon the contents into a prepared casserole dish.
Combine the melted butter and crushed crackers.
Sprinkle on the top of the dish. 
Bake for 35-40 minutes or until the cracker crumbs are golden brown and the casserole is heated through. 
Serve promptly.
Where to Buy Pineapple Flavoring?
Pineapple flavoring can easily be purchased on the Dolcefoglia.com website or on our amazon link. Pineapple flavoring oil is perfect for many pineapple recipe desserts.
If there are any recipes that you would like to us to share with you, please leave a comment below and we'll get to it as soon as possible.
Checkout the top 5 dessert recipes for raspberry dessert, blueberry dessert, and strawberry desserts.