7 Blueberry Dessert Recipes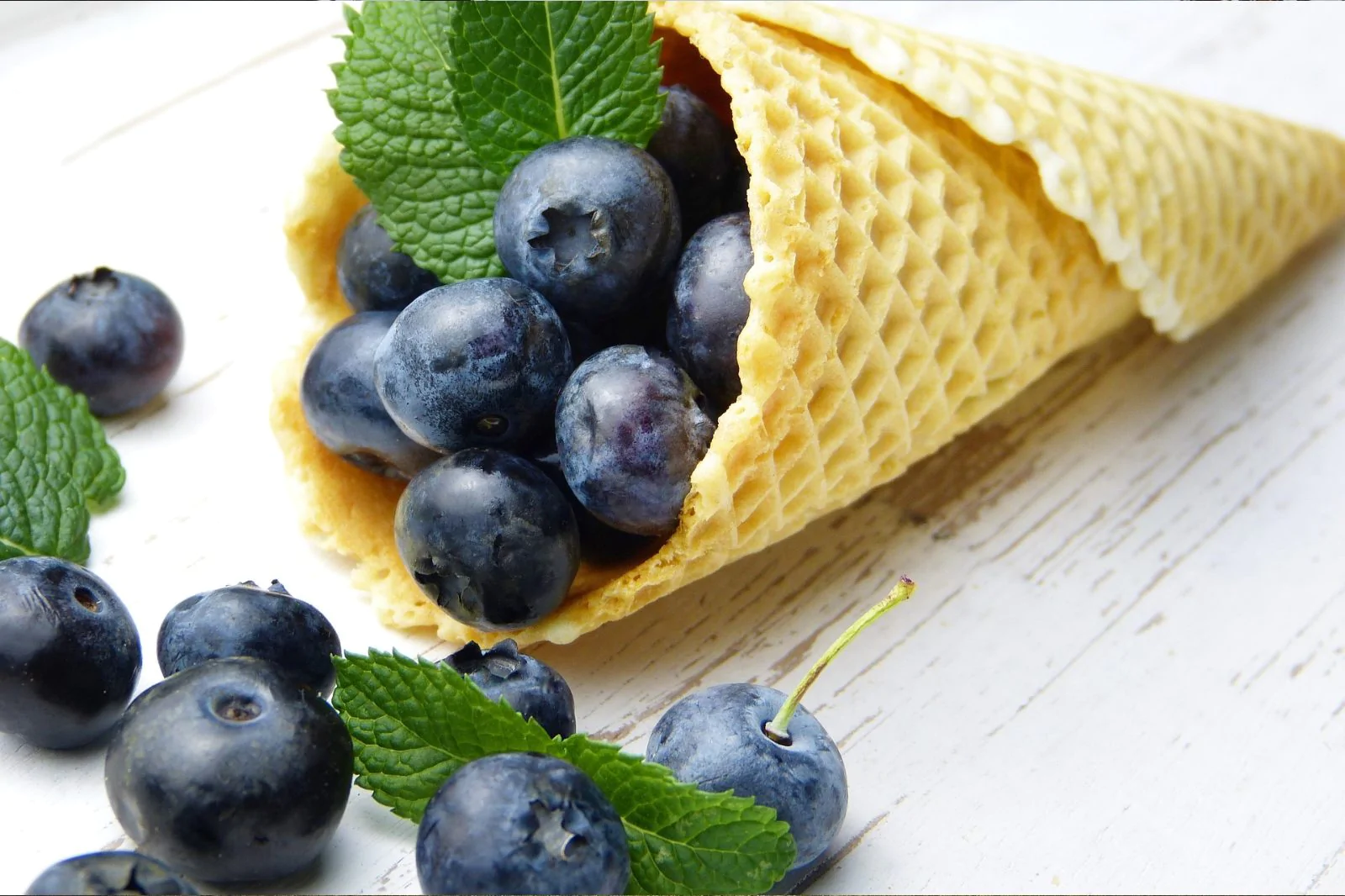 In this article, we are going to cover a variety of blueberry desserts ranging from blueberry cake recipes to a blueberry ice cream recipe. Shop our blueberry concentrate now that's only a click away. 
1.Blueberry Pie Recipe
Blueberries are one of my favorite fruits because they're so delicious and nutritious. I love making pie with them!
How To Make Pie Blueberry
The best blueberry pie recipe is an easy and not super time consuming.
Ingredients
1 sheet refrigerated pie crust
3/4 cup sugar (can be subbed with honey)
2 tablespoons cornstarch
1 cup water
1 package (3 ounces) strawberry gelatin
4 cups sliced fresh strawberries
1 Teaspoon Blueberry Concentrate
Whipped cream, optional
Equipment
Oven
Heavy Duty Foil
Parchment Paper
9 Inch Pie Plate
Small Saucepan
Teaspoon
Instruction for homemade blueberry pie recipe
Step 1:
Preheat oven to 450°
Unroll crust into a 9-in. pie plate. Trim edge.
Line crust with a double thickness of heavy-duty foil or parchment.
Bake 8 minutes.
Step 2:
Remove foil; bake 5 minutes longer.
Cool on a wire rack.
In a small saucepan, combine the sugar, cornstarch, blueberry concentrate and water until smooth.
Bring to a boil; cook and stir until thickened, about 2 minutes. Remove from the heat.
Step 3:
Stir in gelatin until dissolved. Refrigerate until slightly cooled, 15-20 minutes.
Meanwhile, arrange blueberries in the crust.
Pour gelatin mixture over berries.
Final Step:
Refrigerate until set. If desired, serve with whipped cream.
2.Blueberry Ice Cream Recipe
This recipe is so easy to make, you'll want to make it every summer! It takes just minutes to prepare and only about 30 minutes to freeze.
How To Make Your Own Homemade Blueberry Ice Cream Recipe
In my opinion, this is the best blueberry ice cream recipe for home makers like myself. Best served on a simmer summer night or for a fun opportunity to show in front of your friends pot luck!
Ingredients for Blueberry Ice Cream Recipe
2 cups fresh or frozen blueberry, partially thawed
1/2 cup sugar
2 cups heavy whipping cream
1 cup half-and-half cream
2 teaspoons vanilla extract
1 teaspoon blueberry flavoring
Equipment
Blender
Large Bowl
Sitrring Utensil
Freezer
Containers
Instructions for Home Blueberry Ice Cream Recipe
Place blueberries in a blender
Cover and pulse until chopped
Transfer to a large bowl
Stir in sugar until dissolved
Stir in remaining ingredients until blended.
Pour mixture into cylinder of ice cream freezer
Transfer ice cream to freezer containers, allowing headspace for expansion.
Freeze 2-4 hours or until firm.
3.Blueberry Muffin Recipe
Follow this blueberry muffin recipe easy made at home from scratch.
Ingredients for blueberry muffins
How to make blueberry muffins
Begin your morning out right by preheating your stove and line a muffin tin with paper baking cups.
Then, whisk the eggs in a bowl, then, at that point, add yogurt, blueberry flavor, vanilla flavor, and turn.
Blend these ingredients until totally consolidated and include the almond flour and baking powder.
Add the vanilla extract and blueberry flavoring – both of these flavors are keto-friendly and are super tasty and potent.
Cautiously partition the muffin batter between twelve muffin cups, then, at that point, put the muffin tin in the stove.
4.Blueberry Cobbler Recipe
The ultimate blueberry comfort food – homemade blueberry cobbler – using blueberry extract for baking.
Ingredients for Blueberry Cobbler
4 Cups of Blueberries
1/2 Cup Sugar
6 Tablespoons Butter
1 Teaspoon Lemon Zest
1/2 Teaspoon Blueberry flavor
FOR THE BATTER:
6 Tablespoons Butter
1 cup all-purpose flour
1 cup granulated sugar
2 teaspoons baking powder
1/4 teaspoon salt
3/4 cup milk
ground cinnamon
Equipment for Blueberry Cobbler
Oven
9×13 inch baking dish
Medium Sized Bowl
Stir
How to Make Blueberry Cobbler
Prepare your pan:
Preheat your oven to 350 degrees Fahrenheit
Slice the butter into pieces
Add the butter to a 9×13 inch baking dish.
Place the pan in the oven while it preheats, allowing the butter to melt.
Once melted, remove the pan from the oven.
Prepare the blueberries:
Add blueberries, sugar and zest to a bowl and stir until blended.
Prepare the batter:
Mix the batter ingredients together: flour, sugar, baking powder, and salt.
Stir in the milk and blueberry flavor, until mixed.
Pour blueberries over melted butter in pan, drizzle the batter over the top, and sprinkle with a little bit of cinnamon.
Bake:
Bake at 350 degrees for about 35-40 minutes, or until lightly golden on top.
Serve:
Serve the cobbler warm from the oven with a scoop of vanilla ice cream, if desired.
5.Blueberry Keto Cheesecake Recipe
Yummy blueberry cheesecake recipe, made with fresh blueberries and blueberry flavoring.
Ingredients
For the Filling
48 ounces of cream cheese (room temp.)
2 cups of powdered sweetener
5 Large eggs
8 ounces sour cream
1 tea spoon of vanilla flavoring
1 tea spoon of blueberry flavoring
How to make Blueberry Cheesecake Recipe
Step 1
Pre-heat oven to 325°F
Combined the dry ingredients for the crust in a medium bowl
Mix in the butter
Pour the crust mixture into the pan – it helps to use a flat bottom cup or bowl to press down the mixture
Refrigerate for 20 minutes
Step 2
Grab a large mixing bowl
Beat the room temperature cream cheese until it has a light and fluffy texture
Add in the sweetener a little at at time and mix well
Add in room temperature eggs and beat until thoroughly mixed
Finally, add in the vanilla and blueberry flavoring along with the sour cream until thoroughly mixed
Now that we have the finished mix, pour into the pan and let it sit in the preheated oven of 325°F for 50 minutes. 
The indicator are a wobbly center and non glossed top
 Thereafter, turn the oven off, crack the door, and leave it too cool in the oven for 30 minutes. 
Run a sharp knife around the edges of the cheesecake to loosen it from the pan sides.
Allow the cheesecake sit on the counter for 1 hour.  Cover loosely with plastic wrap and refrigerate for at least 8 hours.
6.Blueberry Cake Recipe
Delicious blueberry cake recipe, simple single layer cake made with fresh blueberries and blueberry concentrate.
Ingredients for blueberry cake
1 cup all-purpose flour plus 1 teaspoon of flour (plus more for prepping cake pan)
1 teaspoon baking powder
1/2 teaspoon salt
1/8 teaspoon cinnamon
1/2 cup unsalted butter, softened
3/4 cup sugar
1/4 teaspoon vanilla flavoring
1/4 teaspoon blueberry concentrate
2 large eggs
2 cups blueberries, rinsed
1 teaspoon lemon juice
Powdered sugar for dusting
Equipment for blueberry cake recipe
Oven
8 or 9 inch springform pan
Cake Pan
Parchment Paper
Whisk
Mixer
Medium Sized Bowl
Instructions
Preheat oven to 350°F.
Lightly butter an 8 or 9-inch springform pan and dust with flour. Or use an 8 or 9-inch round cake pan, butter and dust with flour and line the bottom with parchment paper.
Whisk together 1 cup of flour with baking powder, salt, and cinnamon and set aside.
Using a mixer, beat the butter on medium high speed for 2 minutes. Add the sugar and beat until light and fluffy, a couple minutes more. Stir in the vanilla extract and blueberry flavor.
Add the eggs and beat until fully mixed.
Reduce the speed of the mixer too low and slowly add the flour mixture, beating until smooth.
Pour the batter into the prepared springform pan.
Toss berries with flour and lemon juice, spoon over batter:
Combine the berries with the remaining teaspoon of flour and the lemon juice in a bowl. Spoon the berry mixture over the batter.
Bake on middle rack in oven for 45 to 55 minutes at 350°F, or until a tester inserted into the center comes out clean.
Remove from oven and let the cake cool in the pan for 10 minutes.
Carefully slide a thin knife around the edges of the cake to release it from the pan.
Transfer the cake to a platter, berry side up. Dust the cake with powdered sugar to serve.
7.Blueberry Cupcake Recipe
The best dessert dish that is acceptable as breakfast…blueberry cupcakes ! Love the texture of the cupcake – oh so smooth and moist.
Ingredients for blueberry cupcake
For the Topping

6 tablespoons granulated sugar
1/4 cup dark-brown sugar
1 teaspoon cinnamon

For the Cupcakes

1 2/3 cups cake flour
1/4 teaspoon baking soda
1 teaspoon baking powder
1/2 teaspoon salt
1 stick unsalted butter, softened
2/3 cup granulated sugar
2 large eggs
1 teaspoon pure vanilla extract
1 teaspoon blueberry extracts
3/4 cup sour cream
1 1/4 cups blueberries
For the Icing

1 1/4 sticks unsalted butter, softened
8 ounces cream cheese
1/2 teaspoon pure vanilla extract
1/2 teaspoon blueberry concentrate
2 2/3 cups confectioners' sugar, sifted
Instructions for Blueberry Cupcakes
Step 1

Make the topping:

Mix together granulated and brown sugars and cinnamon.

Step 2

Make the cupcakes:

Preheat oven to 375 degrees with rack in upper third of oven.
Line cups of a standard muffin tin with baking cups.
Sift together flour, baking soda, baking powder, and salt.
Beat together butter and granulated sugar with a mixer on medium-high speed until pale and fluffy, 2 to 3 minutes.
Beat in eggs, 1 at a time, then beat in vanilla and blueberry concentrate, scraping down sides of bowl.
Reduce speed too low, and beat in flour mixture in 3 additions, alternating with sour cream and beginning and ending with flour.
Fold in blueberries.
Step 3

Pouring:

Divide batter among baking cups.
Add topping, pressing to adhere to batter.
Bake until golden and a toothpick inserted in center comes out with moist crumbs attached, 20 to 21 minutes.
Remove cupcakes from tin, and let cool completely on a wire rack.

Step 4

Make the icing:

Mix butter and cream cheese with a mixer on medium-high speed until colorless and fluffy, roughly 2 minutes.
Lower speed to low, and gradually beat in vanilla and blueberry extract and sugar. Raise speed to medium-high, and beat 1 minute.
Top-off icing with jam
Without stirring, spoon icing into a disposable pastry bag.
Pipe-out swirled mounds of icing on top of each cupcake.
Although best if eaten immediately, cupcakes can be refrigerated up to 6 hours and brought to room temperature 45 minutes before serving.
These are the top 7 requested dessert recipes for easy baking blueberry desserts. If you have any questions or comments, please reach out to thedolcefoglia@gmail.com. Shop blueberry flavor now on Amazon. 
Checkout the top 5 dessert recipes for raspberry dessert, pineapple dessert, and strawberry desserts.