How to make real gummy bears – Shelf Stable Recipe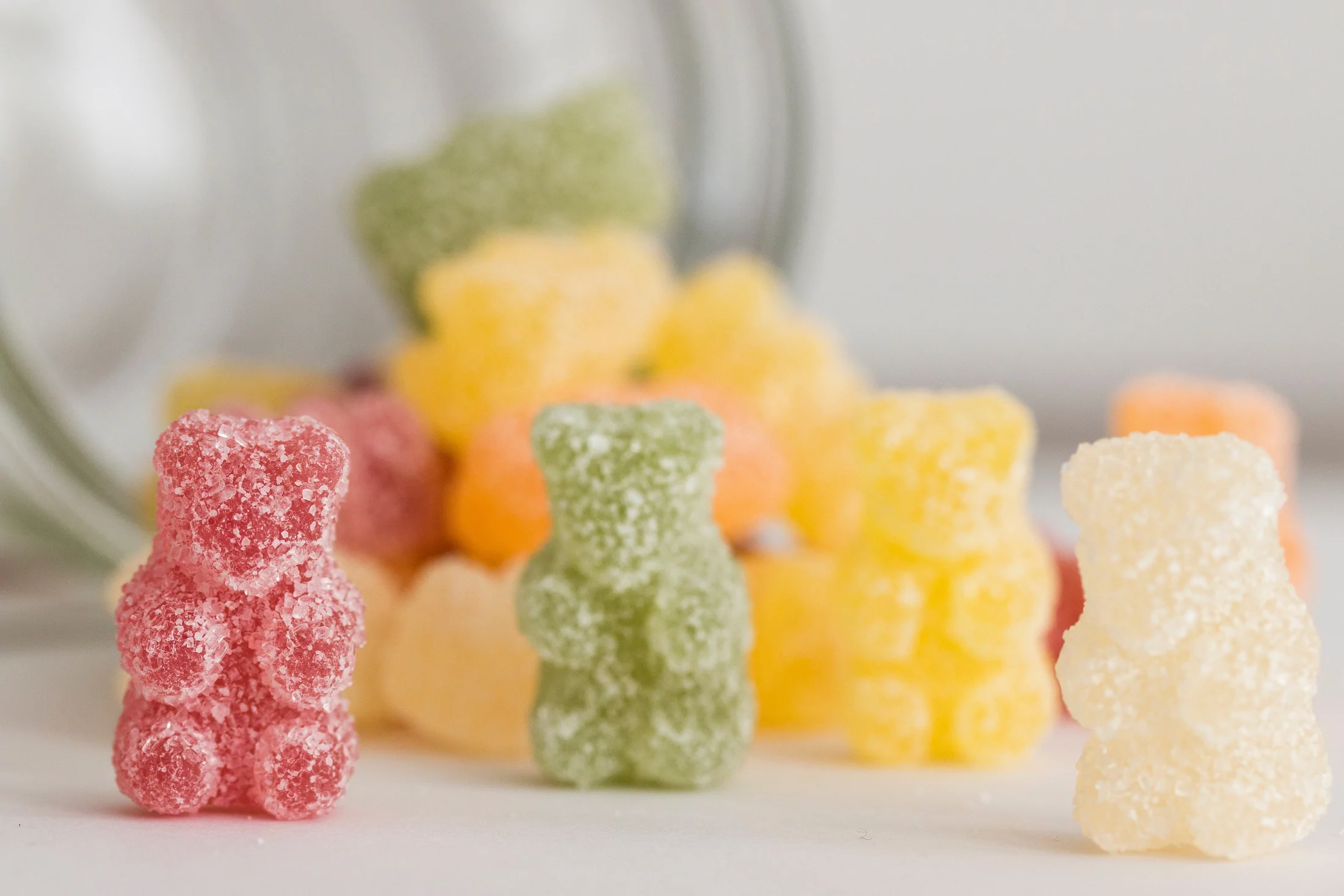 What makes our gummy bears truly special?
Our gummy bears are truly special for one simple reason – Our flavoring oils! Our unique flavoring oils are not just an ordinary flavor enhancer, it packs a punch of intense flavor that truly sets our gummies apart from all the others. Our customers love to indulge in the tangy goodness of these treats while experiencing a burst of flavorful satisfaction.
Is there a perfect gummy bear recipe?
I often hear, is there really a perfect gummy bear recipe? The answer is a resounding YES! The beauty of this recipe is that just like any other recipe, you can customize your own flavors and colors. The beauty of this recipe is that you can do so many other things with this authentic gummy recipe.
In this recipe, we add an additional recipe for that classic gummy bear texture. The best part of these gummy's is that they do not need to be refrigerated, you can put these in a bag and eat them as you please.
What ingredients do you need to make a real gummy bear recipe?
Before we get started on making these gummy's, let's make sure we gather all the ingredients. You may need to order some of these ingredients online but shipping is FAST and EASY! Dolce Foglia carries many of these ingredients in high quality and bulk.
How To Make Homemade Gummy Bears
Granulated Sugar – The main sweetener in this gummy recipe is purchasable at pretty much any market. If you're looking to purchase in bulk, Costco and Smart and Final have fairly decent pricing and quantities.
Candy Flavoring Extracts – If you would like to create some super juicy and mouth watering gummy's than we recommend Dolce Foglia flavors to get that glint in your friends and families eyes when they eat your gummy's. The flavors come in 2 ounce bottles with an easy to use dropper.
No matter the flavor, Dolce Foglia Flavors are 4-8 times stronger than our most flavors on the market, meaning they pack a potent and juicy punch in a variety of appetizing ways!
Glucose – Glucose provides the gummy bears with that chewy texture and keeps them nice and soft. Glucose is easily exchangeable with corn syrup, golden syrup or honey for a more natural option.
Sorbitol – The magic ingredient for that perfectly textured gummy bear. You can leave this out if you don't want this ingredient in the mix but it'll give that Haribo feel.
Gelatin – This helps the gummy bears set and gives them that chewy texture. This ingredient is also replaceable with agar agar if you would like a vegetarian option but be sure to follow the substitution suggestions on the box.
Citrus Intensifier Solution – Dolce Foglia creates a readily useable acid mixture to get a delicious tart and sour flavor. Brings out the flavor deliciously.
What Equipment Do You Need For This Gummy Bear Recipe
First things first! Get an easy gummy bear mold on Amazon. They're cheap and easy to use.
In order to measure the ingredients, it's smart to use measuring cups. Grab a saucepan and food coloring for the gummy bear coloring.
How Do You Make A Shelf Stable Gummy Bear Recipe?
Let's keep it simple.
Pour the gelatin into your water and let the gelatin absorb the liquid for 5 minutes.
Combine together your sugar, corn syrup, and sorbitol in your saucepan and bring it to a simmer. Next, add your gelatin mixture and stir until it's all melted. Once melted, take the pot off the heat and pour in the citrus intensifier solution and stir. Allow your mixture to sit for 5-10 minutes so the foam can rise to the surface. Finally, a spoon or a spatula like utensil to scrape/scoop the foam off.
Bonus Step for the overachievers out there:
Pour the mixture through a strainer to make sure that any lumps of sugar or gelatin are not in the final mix.
Here come the fun part!
Divide your mixture into three bowls.
This time around, I chose the raspberry beret, cotton candy and blueberry yum yum flavors. Use 4-7 drops per flavor from the dropper that comes with each Dolce Foglia flavor bottle into their designated bowls.
Afterwards, get your food coloring ready.
Blue for blueberry, pink for cotton candy and a red for raspberry.
No matter the flavor, Dolce Foglia Flavors are 4-8 times stronger than our most flavors on the market, meaning they pack a potent and juicy punch in a variety of appetizing ways!
Making the Gummy Bears
Mold time!
Grab some pam and spray over the mold first so when the gummy's are ready to come out, they pop out with ease and don't stick to the mold.
Once you pour in the mixture in each mold cavity all the way to the top.
Place the molds into your fridge for 6-24 hours before de-molding them!
Ingredients:
8 Oz. or 227 grams of granulated sugar
3 Tablespoons or 27 grams of Sorbitol
8 Oz. or 227 grams of corn syrup/glucose, honey or golden syrup
44 Grams of gelatin
1/2 Oz. or 14 grams of Citrus Intensifier (Substitute for Citric Acid) –

Citric Acid Option: Use 1-3% of total batch weight.
Pro Tip – the higher percentage, the sourer it gets

1/4 Oz. or 7 grams of flavoring – Raspberry, Watermelon and Blueberry
65 grams of Water
Equipment
Food Scale
Gummy Bear Molds
Instructions
Combine gelatin, and water (or flavored liquid) in a heatproof container. Stir gently to combine. Let sit for 5 minutes to give your gelatin time to bloom.
Combine together the corn syrup, sugar, and sorbitol in a medium saucepan. Stir gently to combine. Bring to a simmer over medium-high heat.
Once simmering, wash down the sides of the pan with water using a clean pastry brush to make sure any stray grains of sugar is dissolved fully.
Remove the mixture from the heat and stir in your citric acid and gelatin mixture with a spatula until gelatin is melted.
Let the mixture sit for 10 minutes and allow the mixture to clear and foam to collect at the top. After 10 minutes the foam should be able to be easily scooped off the surface with a spoon.
Divide your mixture by straining the liquid into three bowls and add in any coloring or Dolce Foglia candy flavorings that you want. I used pink, blue and yellow food coloring.

A must try candy flavoring oil is the passion fruit flavor (still considered a niche flavor in the US) – the flavor profile is pleasantly tangy, tart, with a hint of sweetness.

Spray your molds lightly with some oil and wipe out the excess. Pour your mixture into your molds.
Let your gummy bears chill in the fridge for 6 hours until the bears are set but 24 hours is best. Once they are set they can be stored at room temperature.
*******
Please contact us at Joshua@dolcefoglia.com for any inquiries regarding formulations and flavorings. If you can't wait to speak with us then please call us at (818)230-2884.
*******
If you're looking for an easy hard candy recipe, check out this blog!