Best Soap For Back Acne | Holistic Health HQ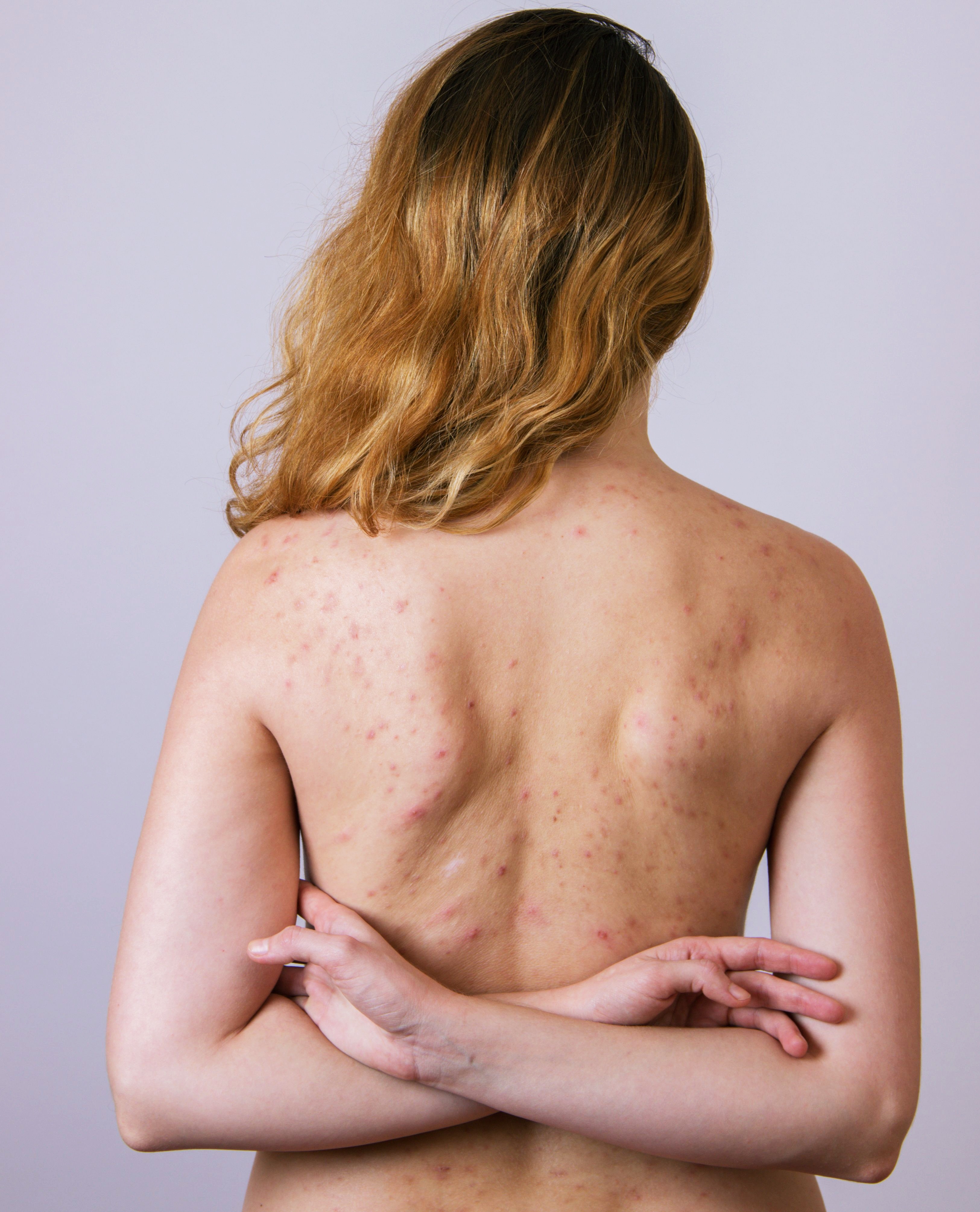 Acne in all of its forms is hard to deal with. But, getting the soap for back acne can help to prevent an embarrassing swimsuit session from happening. A lot of times, back acne can be worse than face acne. It's especially hard to get rid of without body soap for back acne. However, some of the best soap for back acne can end up making your acne flare up and get worse. This is incredibly hard to deal with. One of the best ways to treat back acne is doing it naturally with black soap for back acne. There are a lot of different natural treatments to choose from, and the best one will simply depend on your skin and acne.
Top Related Article: What is A Holistic Nutritionist? Learning About Your Nutritional Coach
What Causes Back Acne?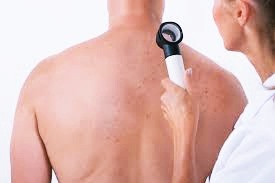 Acne can happen anywhere on the body, but most of us struggle with it on our faces. This is because our face produces the largest amount of oil to moisturize our delicate skin. The more oil that gets produced, the more possibility there is for clogged pores.
Back acne often happens with those who tend to sweat a lot. Whether you are carrying a backpack that causes your back to sweat or you are someone who works out a lot, back acne can happen due to the oils your body secretes while sweating. This is something that is completely natural, and some people sweat more than others. It's nothing to worry about, and it often gets better if you wear proper breathable clothing while exercising or sweating.
Another reason that back acne happens is due to hormones. You could have a hormonal imbalance, or you may realize that your back acne gets worse during certain periods of the month or year. Women may get more back acne right before their menstrual cycle, and men might get more back acne if they just resumed working out due to the increase of testosterone.
Occasionally, back acne can happen due to an infection. Our backs get pretty hot throughout the day, and it can cause fungi and bacteria to breed. This is when back acne starts to happen. The skin gets some of this fungus and reacts to it, which is what you see when you get pimples.
Many times, acne can be helped with good exfoliation. If you are not exfoliating in the shower, you are leaving that dead layer of skin on, which can cause clogged pores.
What Soap for Back Acne is Safe?
Safe soap for back acne is usually a bit stronger than what you can use on your face. Because your back isn't as sensitive, it's usually easier to get rid of the acne because you can use stronger products. Always check with your healthcare provider before starting a new skin regimen, but you should be okay using a product that is out there on the market that is advertised for back acne.
Will it Always be There?
Back acne is usually something that is temporary. Because it is directly linked to hormones and sweat glands, it usually stops when those things are resolved. Wearing breathable clothing can help if you sweat a lot. As far as hormones go, there's not often a whole lot you can do. A lot of young adults and teenagers suffer with back acne because of the increase in hormones throughout these years. As they grow up, the back acne should disappear on its own.
If your back acne is really bothering you, try out the products we recommend. It can help a lot to cut down on the amount of breakouts you see, and it's usually as simple as replacing your soap in the shower. However, if you have been dealing with back acne for a while, it might be time to see a dermatologist.
Related Article: How To Get Rid of Back Acne
How to Choose the Right Soap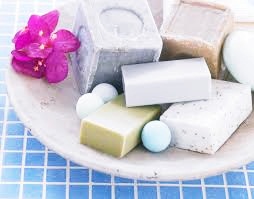 The soap you choose will depend on your skin type, your sensitivity, and your budget. The best soaps are made from all-natural products, and this is something you want to consider when choosing a body soap for back acne. Because back acne can easily be irritated by fragrances and lotions, you want a soap that will dry out the breakouts without drying out your skin. This can be hard to come by with regular acne treatments, which is why there are specially formulated soaps for back acne.
If you struggle with especially oily skin, look for a soap that will dry out your skin a bit more. The extra oil is probably causing more acne to show up on your back. By drying it out, you could fix your problem. If you struggle with dry skin, look for a treatment that has shea butter or another nourishing oil added in, so your skin doesn't get too dry and flaky.
You want to avoid having to put lotion on your body because this can cause clogged pores and worse breakouts. If you have overly sensitive skin, you should be okay with most natural products. Many acne products contain tea tree oil, which is a natural antibacterial and antifungal. It also gives the products a nice scent without irritating your skin. If you have never tried tea tree oil, do a spot test on your arm and see how you react before using it all over your body. Your preference for bar soap or liquid soap will also factor into which is the best soap for back acne for you.
Related Article: Top 3 Back Acne Washes
Back acne can be solved by using the best soap for back acne. It's not an issue you should be embarrassed about, and as long as you pick the right soap for you, it shouldn't last very long.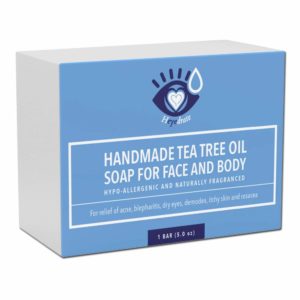 Check The Latest Price
This is one of the best options for soap for back acne because it is completely natural and 100% vegan. The ingredients are sourced locally, and the processing methods really ensure that this soap is going to work. Since it is made with tea tree oil, it fights acne with essential oils and makes sure to not irritate it further. It will help clear up oily skin, but it won't dry it out to the point that your skin is flaking because it contains raw shea butter as well. They also come with a 100% satisfaction guarantee, so if something isn't up to par, let them know!
We recommend this body soap for anyone who has back acne and face acne and wants a product that will work for both. It's gentle on your skin but tough on your back acne.
---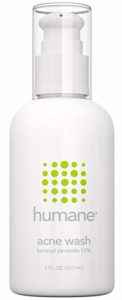 Check The Latest Price
This is the best soap for back acne if you do not have sensitive skin. Because it contains a highest dosage of benzoyl peroxide, you can rest assured that this is going to get rid of the acne you are struggling with. It contains ingredients that are very tough on acne and skin, but it is perfect for back acne that you can't seem to get rid of. This is a liquid soap, which is easy to lather and apply.
This soap for back acne is something we recommend for those who have tried other options and haven't seen any benefit to them. This soap comes with a satisfaction guarantee, so you can try it out and get your money back if it doesn't work. If you don't have sensitive skin, you should try this acne wash.
---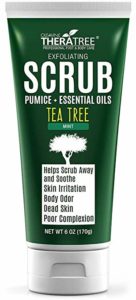 Check The Latest Price
Made with pure essential oils and charcoal from bamboo, this is a defense system that will not fail. Back acne is notoriously hard to get rid of, but this exfoliating scrub works overtime to try to clear it up. The exfoliating part of this scrub helps to get rid of dry skin that can clog pores and make things worse. Then, the bamboo charcoal will purify and detoxify the pores. And finally, the tea tree oil is a natural disinfectant that will get rid of fungi and bacteria that could be causing the acne.
This soap for back acne is not for the faint of heart, and if you struggle with sensitive skin, it may not be for you. For those with fairly severe back acne, this works great. The product smells wonderful, and the natural products are a bonus here. The black soap for back acne can really  get rid of those painful pimples in a natural way. We recommend this for anyone who is looking for a natural solution and only has acne on their back.
---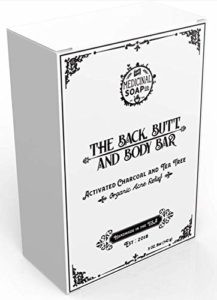 Check The Latest Price
Some people struggle with acne on their face, and others struggle with it on their body. When acne is on your body, it's pretty hard to get rid of. It's constantly being irritated and made worse by the clothes we wear, the sweat we have, and the pollutants our skin comes into contact with. That's why this black soap for back acne exists. Made with activated charcoal meant to purify the pores and stop the infection from causing worse acne, this best soap for back acne will actually help to clear up acne.
The bar feels soft on the skin and also uses tea tree oil to help draw out the fungi and bacteria. It's not the most drying soap out there, so you can use it on all parts of the body. You also won't have to follow it up with lotion, so there's not a large chance of it clogging your pores. This soap for back acne 100% vegan and all natural, and it is never tested on animals. We recommend this for someone who wants a bar of soap that will get rid of acne for good.
---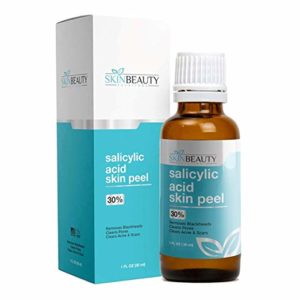 Check The Latest Price
You may think that a chemical peel will be too harsh for your skin, but that couldn't be further from the truth. This peel is made with salicylic acid, which is the most gentle acid you could use on your skin. While it will peel away the top layer of dead skin from your body, it doesn't affect anything else. You are left with a gentle exfoliating treatment that keeps your skin glowing and stops your pores from clogging. It can really help to clear up breakouts on your back because it will dry them out.
We recommend this treatment for anyone who wants to get rid of their back acne and has additional skin issues like sun damage or scars. This can help to clear up all of it, and it truly works to gently exfoliate the skin.
---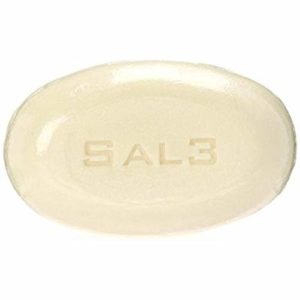 Check The Latest Price
Salicylic acid is frequently used as a treatment for acne, but not a lot of people use it for the body. This bar soap is the perfect way to use soap for back acne without making it worse. It contains salicylic acid, which will gently exfoliate your skin and make it look new again. By getting the dead skin cells sloughed away, your pores will not get clogged. This also uses something called activated colloidal sulfur, which is meant to help with all types of skin problems. There are no fragrances in this bar soap, so it is great for sensitive skin.
With 10% sulfur and 3% salicylic acid, it is going to help to keep your skin moisturized and acne free. We recommend using this if you have more than just back acne, because this soap can clear up a myriad of skin issues.
---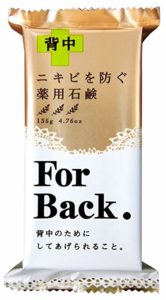 Check The Latest Price
This black soap for back acne is a foreign soap that is meant to scrub your pores clean from the dirt and debris that builds up and creates pimples. It works extremely well for people who struggle with oily skin. However, the soap can also be very drying, so it's not the best black soap for back acne if you struggle with skin sensitivity. It helps to bring the impurities in your pores to the surface and scrubs them away.
This soap can stain your tub a bit black, so it's something to keep in mind if you have a white shower. That being said, this dries out the skin effectively and works to stop the oil from clogging pores. We recommend this soap for back acne for anyone with extremely oily skin.
---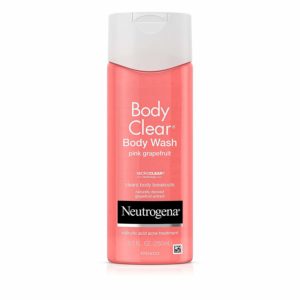 Check The Latest Price
This is a soap for back acne that is readily available at all stores. It is equipped with salicylic acid to help peel away the top layer of dry skin that often clogs pores. It is also scented with grapefruit, which makes the body wash feel more like a typical body wash than an acne treatment. This soap helps to gently exfoliate the skin, and it can be used anywhere you struggle with acne. This is a liquid soap, so a little bit goes a long way, especially if used with a wash towel to make it foam up.
We recommend this soap for anyone who wants a name brand soap for back acne and wants something that smells good. It will help with acne, but it can be a bit drying at times because of the amount of salicylic acid in the wash.
---
Just Remember
You know your body best, so the best soap for back acne for you will really depend on your skin type. Whether you have dry skin or oily skin will factor into your choice, and you may need to try multiple treatments until you get the right one that works for you. When using soap for back acne, you want one that you can use for a long period of time without any future problems.