Aging Eyes | How To Care For Your Eyes As You Age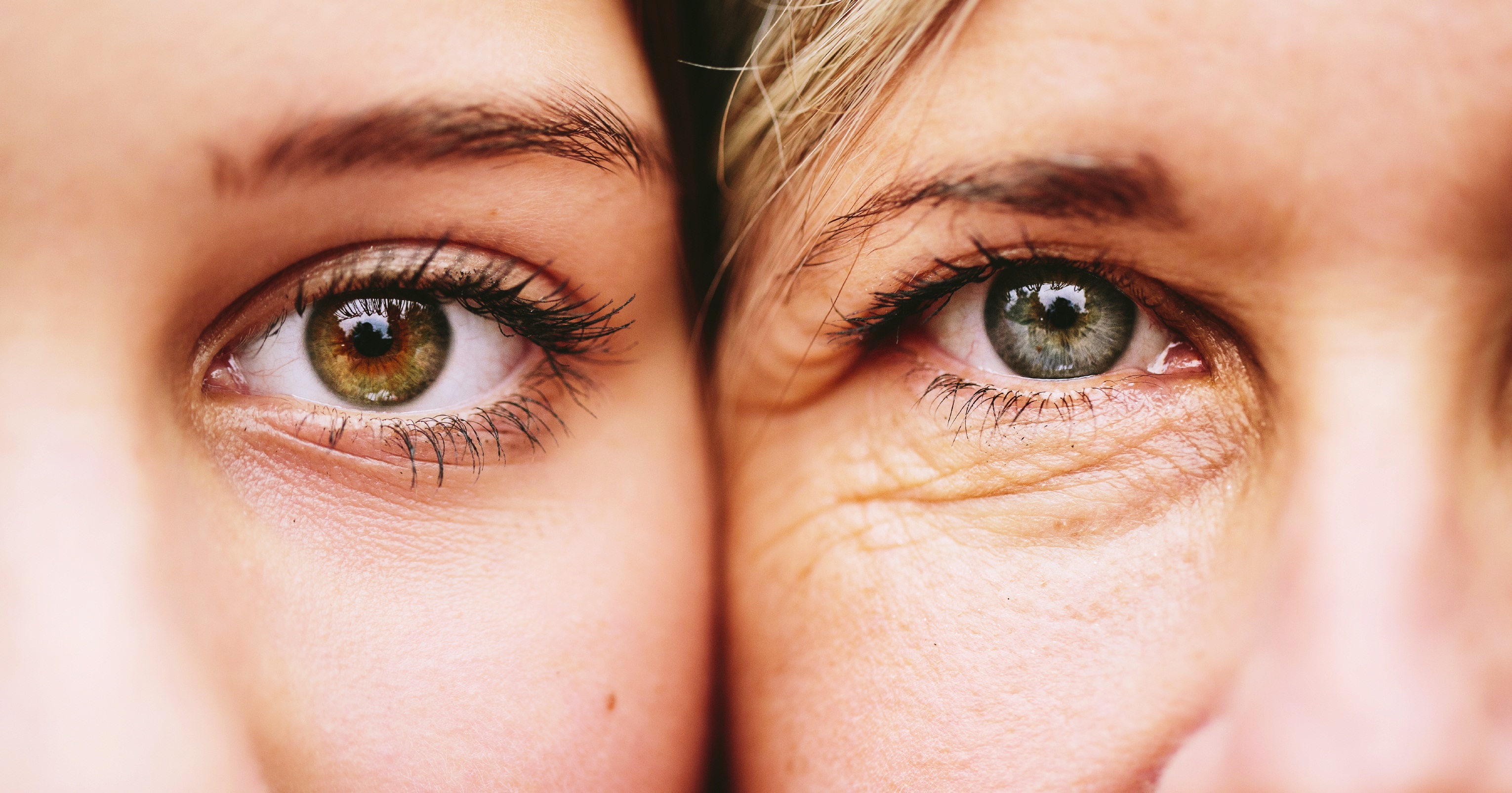 Aging eyes are very common, but in some cases, they can signal warning signs of age related eye problems or other underlying issues. Although, in most cases they are just another old age eye problem. Ask anyone in their late 40s about aging, and most will give a litany of aches and pains that they now suffer because they have had a few more trips around the sun. You'll hear about aching knees and backs, fingers that don't fully extend, and droopy… everything. One of the first symptoms of old age people seem to notice are aging eyes symptoms. These old age eye problems are not only wrinkles that appear around their eyes, often called crow's feet. There are also other common age related eye problems that include macular degeneration, cataracts, glaucoma, low vision, and dry eye. What are some of the warning signs of age-related eye problems? What products can be used to promote eye health and treat symptoms of old age eye problems? Read on to discover some of those answers.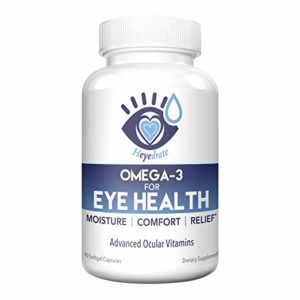 The first product we will highlight that prevents old age eye problems and treats dry eyes is Heyedrate's Fish Oil for Eye Health.
It can be purchased on Amazon in either a one-month or three-month supply. Subscribers can save either five or fifteen percent through Amazon as well.
Each serving of three softgels contains 515 mg of Eicosapentaenoic Acid and 415 mg of Docosahexaenoic Acid. It also contains 40 mg of Omega-7 Fatty Acid. Each serving also includes over 100% of what is recommended of Vitamin E and Vitamin B6. It also contains Vitamin C, magnesium, and lactoferrin, a protein found in saliva, tears, and nasal secretions.
Why take fish oils for the eyes?
Fish oils act as an anti-inflammatory substance to protect aging eyes, and after taking the softgels for as little as two weeks, you will feel relief from burning, dry, and red eyes. Instead of applying drops regularly and having to take out your contacts as soon as you are home from work, you will enjoy a better quality of life free from eye drops.
How does oil from a fish help you wear your contacts longer?
Fish oils continuously nourish your eyes by stimulating tear production. They also reduce inflammation and irritation in your eyes and other parts of your body. Those who are already suffering from eye disease may see some improvement from taking Omega 3 supplements. The antioxidants promote healing on the eyes' surfaces, while at the same time preventing additional damage. After taking the supplement for at least two weeks, your eyes will be less red and sore. You can look better and feel better!
Related Article: Our Most Recommended Eye Drops For Eye Strain
Benefits of taking Heyedrate
Besides the obvious benefit of taking a product with a pun in the title, the Heyedrate formula has an easy to swallow coating. This is especially important to those of you who have a strong gag reflex early in the morning. Your co-workers also won't have to worry whether or not your breath will smell like fish when they interact with you later in the day.
Heyedrate comes with a 100% money back guarantee. If you are unhappy with the supplement, contact Heyedrate directly.
There are a lot of vitamin and supplement companies that sell fish oil pills, but this company gives back some of their profits to promote eye health in Jamaica and South Carolina.
Instructions for use
Take three pills with food every day or take a pill after each meal. After taking one dose a day for two weeks, your aging eyes will feel more comfortable and healthy.
Amazon customers can bundle the Triglyceride Omega 3 Fish Oil for Eye Health along with Hypochlorous Acid Eyelid Cleanser Spray, and Tea Tree Oil Face Soap and Eyelid Scrub. The last two products help with skin issues around the eyes, including blepharitis, styes, and acne.
---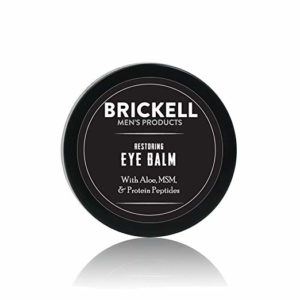 The next product is marketed for men, but it is unclear why women wouldn't want to use it as well.
What are the ingredients in the Brickell's eye cream?
Brickell's Restoring Eye Balm has aloe, MSM, and protein peptides. Aloe vera helps return moisture into the skin, which keeps it supple and smooth. Aloe also acts as an anti-inflammatory to decrease the puffiness under the eyes. MSM is a sulfur-rich compound that acts as sticky flypaper. This substance attracts toxins and helps flush them out of the skin. Protein peptides make the delicate skin around the eyes thicker. Without peptides, skin becomes wrinkly and loses its firmness.
Caffeine is an unexpected ingredient in Brickell's Eye Balm. Apparently, caffeine is great for aging eyes and reduces dark wrinkles and puffiness. Who knew?
Brickell's Eye Balm also includes hyaluronic acid, vitamin C, and green tea. Seventy percent of the ingredients used in this cream are organic.
Why use Brickell's Eye Balm?
This cream reduces bags and puffiness under the eyes. It reduces the dark circles that sometimes appear, helps get rid of those horrible crow's feet, and improves other common age related eye problems.  Men who use this balm say that their eyes look brighter than before, and they look more energized after using this product.
Directions on how to use Brickell's Eye Balm
Each morning and night, take a pea-sized amount of the formula and gently place it on and around the upper and lower eyelids, and also, apply a small amount on the upper cheekbones.
Where do you buy Brickell's products?
Brickell's products are available in over 20 countries, and of course, you can purchase it on Amazon. One container of this product contains .5 ounces. It can also be purchased in a bundle with Brickell's Anti-Aging Cream and Brickell's Purifying Charcoal Face Wash.
---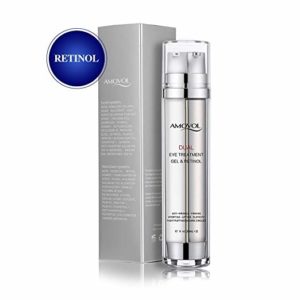 Would you rather purchase a wrinkle cream that is not targeted at men? Purchase Amoval's Dual Eye Treatment Gel and Retinol.
What problem areas does Amoval target?
Use this product to help rid your eyes of inner corner creases, under eye wrinkles, dark circles, crow's feet, and puffiness. This product can be used on all skin types.
When and how do you use Amoval's product?
Use Amoval's gel for day use and the cream for night use. This gel diminishes dark circles and puffiness we often get from a less-than-restful night of sleep. Using the gel before applying your regular makeup keeps your makeup on longer. Just dab a small amount around the bottom and top eyelids. Pat gently with your ring finger.
What are the active ingredients of Amoval?
Ceramide, hyaluronic acid, and yeast extract helps keep the skin in this delicate area looking young by increasing the moisture in the area. Retinol decreases the visible wrinkles. Vitamin C and helichrysum stoechas extract reduces the dark circles, puffiness, and other signs of aging eyes.
Related Article: Holistic Healing Key Benefits
The product comes in a container holding 25 fluid ounces of the product. The manufacturer recommends pairing this purchase with the eye cream to use at night, made by the same company, to achieve maximum results and improve aging eyes symptoms.
---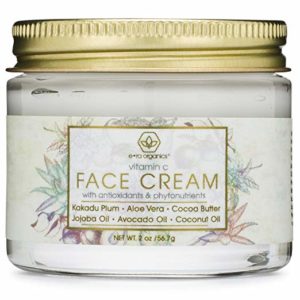 E-Ra Organics makes another great eye cream product for aging eyes.
The makers of this product are proud that it does not contain retinol. Instead of retinol, this cream is made with natural ingredients and oils that are supposed to make your skin look younger.
What are the active ingredients?
The Kakadu plum has more Vitamin C than any other plant. Apparently, Vitamin C is essential for overall skin health and also acts as an anti-inflammatory.
Cocoa butter is not only delicious, but it also adds a protective layer to your skin to protect it from irritants.
Coconut oil easily penetrates the skin and keeps the skin moist. It strengthens the skin around the eyes and by doing so reduces the fine lines. Coconut oil is also antifungal, antiviral, and antibacterial so that it can help soothe the symptoms of blepharitis and other conditions due to aging eyes.
Avocado not only tastes great on toast, but it also works great to heal skin.
Jojoba oil is high in Vitamins E and B, which are vitamins that stimulate collagen production.
Aloe vera is a wonder plant. It contains Vitamins A, C, B, and E. It also contains zinc, calcium, magnesium, and copper. Aloe vera has been used for generations to treat burns because it promotes accelerated skin cell growth.
Retinyl Palmitate is not the same as retinol. It is a form of this ingredient, but it is considered less irritating. This form of retinol also reduces fine lines and wrinkles around the eyes but without the irritation.
What symptoms does this Vitamin C face cream prevent?
As mentioned already, the face cream prevents many aging eyes symptoms. It diminishes fine lines, wrinkles, crow's feet, and dry skin. It also gets rid of those bags from under your eyes that make you look constantly tired. Additionally, it evens out the skin tone and reduces redness and inflammation.
One container of this product holds two ounces of cream. This product is not tested on animals.
---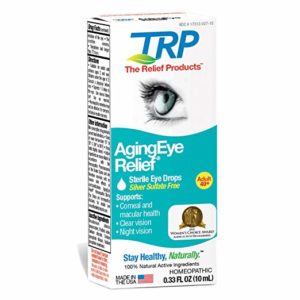 Even though most of this article is focused on improving the skin surrounding the eyes, there is one product in this list that will make your actual eyeballs feel better and help with common age related eye problems. TRP (The Relief Products) Aging Eye Relief comes in a container holding .33 fluid ounces, and it is available on Amazon. Customers can purchase this product for one-time use, or they can subscribe for this product and save either five or fifteen percent.
How do you use TRP's Eye Drops?
Squeeze between one and three drops in your eyes several times a day or as needed. Just like any eye drops, avoid having the applicator tip touch your eye. This product can be used with other eye drops or vitamin supplements explicitly made for the eyes.
Why use Aging Eye Relief?
The Aging Eye Relief drops temporarily relieve symptoms of aging eyes such as floaters, blurry vision, dry eyes, red eyes, tired eyes, cloudy vision, and opacities (or cloudiness). It promotes corneal and macular health and can help improve night vision.
What are the active ingredients in these eye drops?
Branded as a homeopathic product, the product information says that the ingredients are all natural and that the product is manufactured according to the strict guidelines of homeopathic pharmacopeia of the U.S. Interestingly enough, each component listed also has next to it the purpose for including it. For example, euphrasis HPUS 6x is included to reduce the eyes' dryness and redness.
Related Article: What Causes Puffy Eyes? Signs, Symptoms, & Treatments
---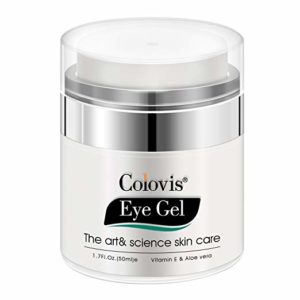 The container of Colovis Eye Gel is subtitled "the art and science skin care." The 1.7 fluid ounce container is available through Amazon.
Why purchase Colovis Eye Gel?
This lightweight eye gel is refreshing and can quickly be absorbed into the skin. It gets rid of fine lines, wrinkles, puffiness, dark circles, bags, and other signs of aging eyes. Using this product supposedly makes you look younger and more refreshed than before. It not only prevents aging eyes symptoms from occurring to the skin around your eyes, but it also repairs some of the damage that has already happened.
What are the active ingredients?
That miracle plant, aloe vera, can be found in this eye cream. It naturally moisturizes the skin and thus reduces fine lines and wrinkles. Aloe vera is most known for repairing damaged skin caused by burns and scarring.
Matrixyl 3000 is not another Matrix movie sequel starring Keanu Reeves. It is an ingredient in this product that is more effective than the original matrixyl at regulating cell activity. Apparently, this is a good thing when talking about skin care.
Plant stem cells are used in this product as well to promote the rise of new skin cells.
You wouldn't think placing any acid around the eyes would be a good idea, but hyaluronic acid is different. This ingredient improves the skin metabolism and helps promote the skin's absorption of other nutrients that are contained in the formula.
Vitamin E is essential for skin health because it slows the signs of aging eyes. It reduces the appearance of wrinkles while at the same time providing a natural protective barrier against any more damage.
What are the directions for using Colovis?
Before using this product around the sensitive skin of your eyes, test a little of the cream on the inside of your wrist or behind your ear to see if you develop any reaction to it. Even though this is not listed as a part of the directions of any of the other skin care products in this article, it is always a good idea. After you are sure this product is safe for you to use, dab on a little of the eye cream and gently massage it in until it is completely absorbed. The manufacturer recommends using this product both in the morning and in the evening. This product comes with a small pump that dispenses the appropriate amount of the cream for use.
This product is cruelty-free. It contains no fillers, alcohol, artificial fragrances, or gluten. It is manufactured in a GMP (Good Manufacturing Practice) Certified and FDA Registered facility.
---
Which of these products is the best at fighting common age related eye problems?
It seems as if a combination of tactics would be in order to combat aging. First, take an Omega-3 fish oil supplement. This helps retain the moisture in your eyes. Keeping your aging eyes moist combats a variety of eye problems. The fish oils also work as an anti-inflammatory substance that keeps your eyes healthy.
Next, use TRP's Aging Eye Relief Drops to help reduce redness and irritation. These drops will also soothe your eyes and make you feel more refreshed.
Finally, use some sort of eye cream in the morning or evening to eliminate the signs of aging eyes. Eye cream will make you look younger and more energetic. If you look more youthful and more active, chances are you will feel that way as well.
While it's a good idea to do all you can to maintain your health and reduce the signs of aging eyes, at the same time, don't obsess over your crow's feet and puffiness around your eyes. Age is more of an attitude than the absence of wrinkles. The oldest looking person can still have a young heart.
How do you keep a youthful attitude?
Give the next generation a break. Don't complain about young people. Instead, be amazed at how much knowledge they have at the touch of their fingertips and how connected they are to their friends and communities.
Don't be afraid of new things. Embrace new technology. Listen to new music. Watch the latest movies and TV shows. Don't assume new equals bad.
Don't dress too young, but avoid dressing old. Dress like the people who are walking on the beach in AARP commercials. Avoid wearing those polyester pants pulled up to your bra line while also sporting a fanny pack.
Related Article: Symptoms and Signs of Eye Health
Live with thankfulness in your heart. No one wants to be around a complaining old person. Know that each day is a gift. Some people were not given the gift of aging. Be thankful for your time here on Earth each day and for the people who surround you. Be grateful for your needs being met and your health. Count your blessings every day.