Best Baby Formula – Top Rated Baby Formula Reviews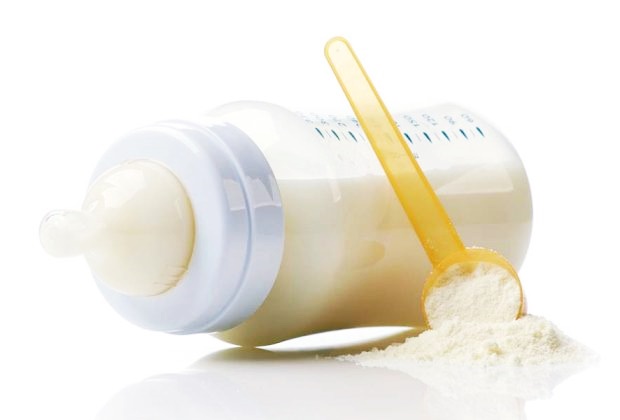 Are you really feeding the best baby formula? This question keeps some parents up at night. After all, one of the most stressful aspects of being a new parent is knowing whether or not your tiny infant is getting enough nutrients.
Perhaps you can't wait for your first well-child checkups to see how much weight your baby has gained. You delight when your baby eats well, and you agonize when your baby spits it all up again. A chunky baby is a badge of honor for some parents because they at least know that their baby is getting the nutrients he or she needs to grow.
Another stressful decision new parents have to make is whether to breastfeed your infant or to use formula. Parents who opt to feed their babies formula agonize over which is the best brand of formula to use. How do you pick a baby formula? Which is the closest to breast milk? How do you know which type is best for your baby? What about the cost? How do you know if your baby is reacting negatively to the formula? What are some of the ingredients you should avoid? Read on to discover a list of some of the best baby formula on the market today.
Best Baby Formula – Our Top Picks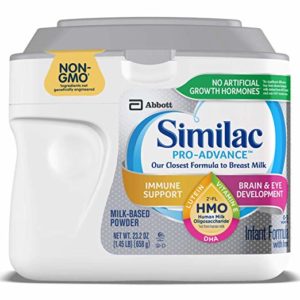 Check The Latest Price
Similac's Pro-Advance formula was the first infant formula brand that did not have artificial growth hormones. While it does not have growth hormones, Similac Pro-Advance does have HMOs. HMO are Human Milk Oligosaccharide, which is an immune-nourishing prebiotic that is found in breast milk. This prebiotic does not directly come from human milk. The HMO comes from a palm olein oil-free fat blend, and it helps your infant absorb calcium.
According to Nielsen data and the company's website, Similac is the most popular brand of formula fed in hospitals. It is recommended by pediatricians for immune support.
Similac Pro-Advance also has DHA, an ingredient that supports brain development. It also contains lutein, which promotes eye health, and Vitamin E, which helps developing cells.
Parents who use Similac Pro-Advance say that their babies are less fussy after switching to this product for one day. They also report that babies tend to be less gassy and cry less than when they were on a competitor's formula.
Similac Pro-Advance contains Vitamins A, B6, B12, and Biotin. It also contains Vitamins C, D, E, and K. It contains niacin, thiamin, folic acid, choline, inositol, riboflavin, and pantothenic acid. It also contains the following minerals: calcium, zinc, selenium, phosphorous, manganese, sodium, magnesium, copper, potassium, iron, iodine, and chloride.
Customers who purchase Similac's formula should mix one scoop with two ounces of water. Mix the powder in a clean bottle and use it within an hour. Refrigerated, mixed formula lasts up to 24 hours.
Similac has several other formulas available on the market, including the Pro-Sensitive Infant Formula, Pure Bliss Infant Formula, Advance Infant Formula, and Go and Grow Toddler Drink. Continue reading to see how the Pro-Advance formula compares with two other Similac products.
Similac Pro-Advance is available on Amazon in a 23.2-ounce container. The cost is $1.23 per ounce, and shipping is free.
---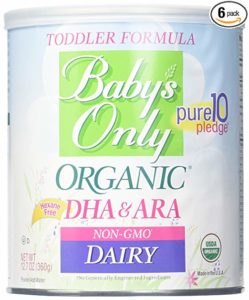 Check The Latest Price
As opposed to the Similac Pro-Advanced discussed earlier, this product made by Nature's One, is made for toddlers, aged one and older. Those at Nature's One say that breast milk is the best way to feed your baby for his or her first year.
Baby's Only Toddler Formula is 95% organic. The product information says that this is the only formula that contains USDA organic-compliant DHA. They developed a way to formulate DHA from egg yolk phospholipids. Other formulas contain DHA oils that are extracted using hexane solvent and treated with acid and bleach.
Nature's One is also proud that it uses naturally-occurring choline in its formula because this form is highly absorbable.
Besides being 95% organic, this formula is also kosher and gluten free.
To prepare Baby's Only Organic Toddler Formula:
First, wash your hands and surfaces with warm water and soap.

Next pour two ounces of water into a clean, sanitized bottle.

Add one unpacked, level scoop of the formula.

Cap the bottle and shake it well until the powder dissolves in the water.

Use the formula within an hour of mixing it with water.

You can store the mixed formula in a refrigerator for up to 24 hours.
Store the opened container of Baby's Only Organic Toddler Formula in a cool, dry place for up to a month.
Baby's Only gives several warnings to parents on the back of their can of formula. First, they warn never to use a microwave to warm formula, as serious burns to your toddler can result. Second, the company tells parents to discard unused formula at the end of each feeding. The third warning is more of a suggestion. Baby's Only says that if you are using tap water to mix the formula, it is suggested that you boil the water first for one minute and cool the water for no more than 30 minutes. It is recommended that you use sterile, purified, demineralized, deionized, distilled, or reverse osmosis filtered water to mix your toddler's formula. Talk to your doctor to see if he or she thinks this is a necessary step in the process.
A serving of this formula is two scoops, which makes four fluid ounces. There are 80 calories per serving. Toddlers ingesting this formula will receive two percent of their daily needs of Vitamin B7 and four percent of magnesium. Toddlers will receive six percent of their daily needs of folic acid, vitamin B12, and copper. One serving provides eight percent of vitamin B6 and pantothenic acid. Toddlers receive 10 percent of their vitamin A, thiamin, riboflavin, niacin, and phosphorous. The formula contains 14 percent of the daily value of protein, and 15 percent of calcium, iron, and vitamin D. Toddlers receive 25 percent of their needs of iodine, and 40 percent of vitamin C.  
Baby's Only Organic Dairy Toddler Formula comes in a six-pack of 12.7-ounce containers.
---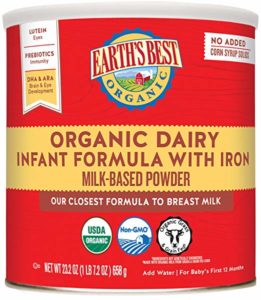 Check The Latest Price
Earth's Best formula is also organic, but this one is designed specifically to feed a baby during his or her first twelve months. It is made with non-genetically modified ingredients and is kosher. It was made without synthetic pesticides and fertilizers. It does not contain any corn syrup solids.
Earth's Best formula's product information says that it is the closest formula to breast milk. While Earth's Best recommends breast milk for infants, they recommend one of their products as a viable alternative.
The Organic Dairy Formula contains Omega 3 DHA and Omega 6 ARA fatty acids that are naturally found in breast milk. These fatty acids support your baby's brain and eye development. It also includes iron, which infants need for healthy growth. The Earth's Best formula contains lutein to support your baby's eye health and prebiotic fructooligosaccharides to support a strong, natural immunity in your baby.
Earth's Best brand was introduced over 30 years ago, and they now offer a complete line of organic infant and toddler nutrition. As your baby ages, he or she can use Earth's Best cereals, jarred baby foods, and snacks, and meals designed for growing toddlers and children. There are also other formulas available by Earth's Best, including Organic Sensitivity Formula, Organic Gentle Infant Formula with Iron, Non-SMO Soy Plant-Based Formula, and Organic Dairy Non-DHA Formula. Earth's Best cows are fed certified organic grain, hay, and grass.
For questions on this product or other Earth's Best formulas, call their customer service number at 800-434-4246.
To prepare the Earth's Best formula, one should pour the desired amount of warm water into a bottle. The company literature says to ask your pediatrician about whether you need to boil the water for your baby's formula.
Add in one unpacked, level scoop for every two ounces of water in the bottle. Cap the bottle and shake the bottle vigorously until the powder is dissolved. Like the other formula companies, Earth's Best recommends that you use the prepared formula immediately or cover the bottle and refrigerate the formula to use within 24 hours.
This particular Amazon listing gives the customer several different purchasing options. Choose from the dairy formula, the dairy non-DHA formula, or the gentle formula. Customers can purchase one 23.2-ounce container or a pack of four containers. Amazon customers can subscribe to this product and save between five and fifteen percent.
---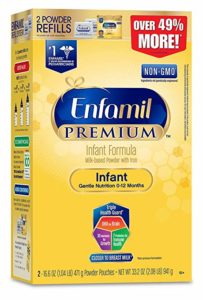 Check The Latest Price
The Enfamil Premium Non-GMO Infant Formula power refill box is yet another one of the best baby formula options. You may want to make sure you have an air-tight container at home that holds 33.2 ounces before you make this purchase.
As far as the formula goes, Enfamil Premium is the first and only infant formula to have inositol, a building block for growing brains. This building block is available in a mother's breast milk at 22 mg per 100 kcals.
Enfamil Premium also has twice the amount of the fatty acid DHA in it as Similac's formula. DHA is supposed to foster a child's learning ability, although it is not proven that infants who were fed Enfamil learn better than infants who were given Similac.
Enfamil also has a blend of prebiotics that work through the digestive tract. The prebiotics support a baby's immune system.
According to a survey conducted in 2016-2017, pediatricians are more than likely to recommend Enfamil than other brands. Their pediatric nutrition knowledge has been backed by over 100 years of studies.
Enfamil Premium contains no genetically-modified organisms, no artificial flavors, artificial sweeteners, or artificial colors. It does include thirty nutrients designed to help your baby grow and thrive. The nutrients include Vitamins A, C, D, E, and K. They also include thiamin, riboflavin, and niacin. Enfamil has B6 and B12 as well as folic acid, pantothenic acid, inositol, biotin, and choline. It includes the following minerals: calcium, phosphorus, magnesium, iron, zinc, manganese, copper, iodine, selenium, sodium, potassium, and chloride.
Proper hygiene is very important when preparing your infant's formula. Care needs to be used when storing the formula as well. Keep in mind that powdered formula is not sterile, and thus it should not be given to premature infants or infants with immune issues unless your pediatrician directs you to do so. Also, ask your doctor about the need to used boiled water to use in making the Enfamil formula.
Like the other products listed in this article thus far, pour the desired amount of water in the bottle. For every two ounces of water add one unpacked scoop of formula and shake the contents well.
Since this listing is for a refill pouch, care needs to be made when transferring the refill pouch to the Enfamil Premium tubs. Make sure the storage tub is empty of the older formula. Wash and dry the tub completely before refilling it with the new formula. Keep the containers tightly closed to keep it from being contaminated and store it in a dry area. It is always a good idea when transferring the refill pouch to the tub to keep the original refill packaging. This package has the batch code that may need to be accessed in case of an emergency recall. It also has the use by date sticker on it that you may need to refer to.
If you have questions regarding Enfamil products, call 1-800-BABY123 from 8 a.m. to 4:30 p.m. Monday through Saturday, central time.
Enfamil Premium comes in several different forms and sizes. Enfamil Premium Infant 32 ounce ready-to-use-bottles are incredibly convenient to use. One only has to pour the desired amount of formula into a bottle, and the baby will be able to eat. This is not the most cost-effective way to feed your baby, but it is convenient when on the road.
Enfamil also comes in Premium Infant Single-Serve Powder sticks. The portions are pre-measured and packaged. Just add the appropriate amount of water per stick, and your baby can have his or her bottle.
Enfamil Premium Infant Powder Tub is the 22.2-ounce tub that can be reused after it is emptied of its original product. Do not add new formula to unused formula in the container, as this could cause a contamination risk. The powder tub enables parents and caregivers to scoop out the formula easily and store it securely.
The Enfamil Premium Refill Box that is in this listing allows you to refill your storage tub. Keep in mind that the refill box will overflow the powder tub. You will have to add the new formula to the container in stages. This is the most economical way to purchase Enfamil formula. While one tub makes 71 two-ounce bottles, the refill box makes 106 bottles of the same size.
---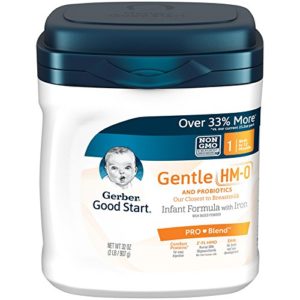 Check The Latest Price
Gerber's product information says that their Gentle Infant Formula is the closest formula to breast milk. It also says it is the only formula with HMOs (human milk oligosaccharides), which are not from human milk. They also include probiotic B lactis. HMOs and probiotics support good digestive health in your infant and help develop the baby's immune system.
While all infant formulas provide adequate nutrition for your baby, Gerber uses comfort proteins, which are made from high-quality whey. These proteins are easier to break down and digest through young digestive systems.
Gerber's Good Start formula also includes DHA to support your infant's brain and eye development.
Gerber's Good Start Formulas do not use milk from cows that were treated with antibiotics. There are also no genetically modified ingredients used in making this product.
New parents often have many questions. Gerber offers a text-based service that allows you to talk with Dotti, Gerber's personal baby expert. Dotti can answer questions about nutrition, lactation, and sleep. No number was given to receive Dotti's service.
Choose between three options of Gerber's Stage 1 formulas. The Gerber Good Start Gentle Powder Infant Formula from this listing is very similar to the Gerber Good Start Soothe Powder Infant Formula. The only difference is that the first formula is closest to breast milk, and the second formula offers soothing nutrition for babies who are colicky, fussy, and gassy.
The other Stage One formula that Gerber offers does not include the HMO, and it should be used as a supplement when a mother is not able to produce enough milk or is not available to nurse the baby.
Gerber Formulas also have stage two and three formulas, which are designed for older babies and toddlers.
Gerber Good Start Gentle is available on Amazon and the product ships for free. The container holds 32 ounces of powdered formula.
---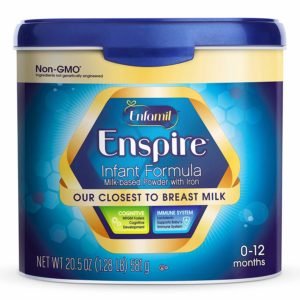 Check The Latest Price
When it comes to the best baby formula, Enfamil has a lot to offer. In fact, here are six different variations of their formula:
Enfamil Enspire Infant Formula
Enfamil A.R. Infant Formula
Enfamil Neuro Pro Gentlease
Enfamily Neuro Pro
Enfamil ProSobee Soy-Based Infant Formula
Enfamil Reguline Infant Formula
We will go over each one in more detail below.
Enfamil Enspire Infant Formula
The first best baby formula by Enfamil is their Enspire Infant Formula. This option is closest to breast milk. It is the only formula in the U.S. to add MFGM and lactoferrin to their formula. (MFGM fosters cognitive development, and lactoferrin helps support the immune system.) MFGM is a fat-protein blend that helps eliminate the cognitive gap between infants fed with formula versus breastfed infants.
Even though none of the ingredients in this Enfamil formula include genetically modified substances, some genetically engineered material may be present in the product from other process sources.
Enfamil has a presence on social media. Customers are encouraged to join their community, meet their experts, and share your stories. You can also visit the Enfamil website to receive free samples of their formula, receive coupons, and timely emails about your baby's development.
Like the other products written about in this article, parents and caregivers should add one scoop of the dry formula for every two ounces of water. Talk with your doctor regarding the need to sterilize the water, nipples, and bottles before use.
This main listing for this link is for Enfamil's Enspire Infant Formula. It comes in a reusable 20.5-ounce tub.
Enfamil A.R. Infant Formula
The next listing on this page is the Enfamil A. R. Infant Formula, which has been clinically proven to reduce spit-up after giving it to your baby for one week. This product meets the reflux reduction guidelines that were set by the American Academy of Pediatrics.
The formula provides gentle but complete nutrition for infants up to 12 months old. Even though the formula is gentle on the baby's stomach, it still has the Enfamil triple health guard that blends DHA, prebiotics, and vitamins and nutrients that are necessary for a baby's health.
How can Enfamil make the claim that using this product will help reduce the number of spit ups? Not only is the formula made as a rice-starch-thickened formula, but a double-blind study also backs its claims. It was given to infants who spit up more than five times a day, and after using this formula, the infants spit up fifty percent less often.
This product, like the others in this listing, comes in a wide-mouthed 21.5 ounce-reusable tub. Purchase Enfamil's 32.2-ounce refill boxes to receive the most formula for your money. Make sure the older formula is emptied out of the container before the new formula is added. You can purchase this product through Amazon.
Enfamil Neuro Pro Gentlease
Enfamil Neuro Pro Gentlese has been proven to reduce fussiness in babies caused by gas, just one of the many reasons it is one of the best baby formula options. It does so by including an easy-to-digest protein blend that is inspired by natural breast milk.
Neuro Pro Gentlese also has all the other high-quality ingredients that have made the makers of Enfamil, the Mead Johnson Company, last for more than 100 years. It has MFGM, which some have called the most significant advancement in formula since the addition of DHA. This three-layered membrane found in cow's milk support brain development. MFGM stands for milk fat globule membrane.
Enfamil Neuro Pro
Enfamil Neuro Pro has all the same ingredients as the Neuro Pro Gentlese, but it is not designed explicitly for fussy babies. Still easy for babies to digest, this formula also includes the brain-building and immune boosting formula that is at the base of all Enfamil's formulas.
Enfamil Neuro Pro is also available in ready-to-use bottles, reusable tubs, and powder refills. This listing is for the 20.7-ounce reusable container.
Enfamil ProSobee Soy-Based Infant Formula
Some infants have sensitive tummies from the start, and it might be because your baby is lactose intolerant. Soy-based formulas, like Enfamil's ProSobee is lactose and dairy free. It sill has the same brain-nourishing levels of DHA, which helps foster cognitive brain development.
The ProSobee formula also meets the requirements of families who have special dietary needs, such as vegetarian and kosher diets.
The ProSobee formula comes in two-ounce ready-to-use bottles as well as eight-ounce bottles. You can also purchase 13 ounces of fluid concentrate. If you prefer to work with powders, buy the 12.9-ounce powder can or the 22-ounce container. There is no mention of a refill for this particular formula.
Enfamil Reguline Infant Formula
The Enfamil Reguline Formula is made to promote soft, comfortable stools for your baby after using the product for less than a week. It does so by using easy-to-digest proteins and a prebiotic blend that can help your baby have softer stools in less than a week. The prebiotic blend works throughout the digestive tract to feed good bacteria with a type of carbohydrate also found in breast milk.
Help your baby poop with ease by trying this Reguline formula.
This Amazon listing is for the reusable powder tub that holds 20.4 ounces.
---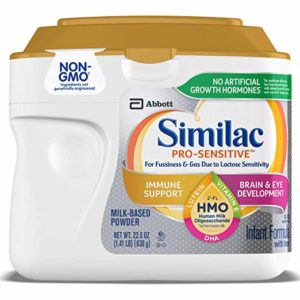 Check The Latest Price
This particular Similac formula was designed for babies who are fussy and develop gas due to lactose sensitivity. This is not the formula for children with galactosemia. Galactosemia is a rare condition that affects a baby's ability to metabolize galactose properly.
While this Pro-Sensitive formula is gentle on your baby's tummy, it still has the human milk oligosaccharides that help support your infant's immune system. Studies have shown that pediatricians recommend Similac more than any other brand for a formula that supports the immune system.
Similac Pro-Sensitive also contains DHA, Lutein, and Vitamin E, which supports brain development, eye health, and cell growth respectively.  Hence, how it's one of the best baby formulas.
Similac Pro-Sensitive can be compared with Enfamily NeutroPro Gentlease. The Similac brand has HMOs, palm olein, and has less than two percent lactose. The Enfamil formula has 20 percent lactose. Please note, the HMO is not from human milk.
The first six ingredients listed in the Similac formula are corn syrup, milk protein isolate, high oleic safflower oil, sugar, soy oil, and coconut oil.
Similac offers a Strong Mom program. This program gives advice and discounts of up to $400 for mothers of infants.
This Amazon listing is for a single tub of the powdered formula that holds 22.5 ounces. One scoop of the powder is mixed with two fluid ounces of water to make the formula.
---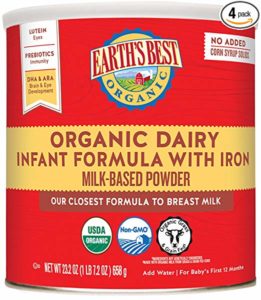 Check The Latest Price
This formula is the same product previously mentioned in this article. This particular listing is for a four-pack of 23.2 ounces of powder.
As mentioned earlier, Earth's Best is designed for a baby's first 12 months. This is the closest formula to breast milk. It includes Omega 3 DHA and Omega 6 ARA, which are naturally found in breast milk. These are important to a baby's mental and visual development. It also contains lutein to support eye health and prebiotics to increase your child's immunity.
Earth's Best contains no corn syrup solids. It is USDA certified organic and kosher. There are no artificial colors, flavors, preservatives, growth hormones, or antibiotics used in the formula, or in the ingredients that make up the formula. It is also free of steroids, pesticides, and herbicides.
Earth's Best also makes cereal and jarred foods in more than 60 varieties for your infants. The company also makes juices and teething biscuits for older babies and toddlers.
Never worry about running out of formula. This listing allows you to purchase it as a four-pack.
---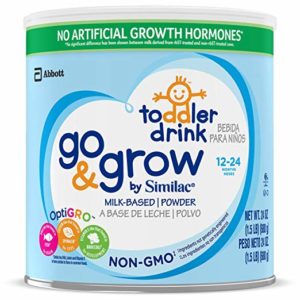 Check The Latest Price
As your baby grows, his or her nutritional needs change and the best baby formula may not be enough anymore. Your baby will begin to receive more nutrients from table foods. But what do you do when your child is picky? It is your responsibility to make sure he or she is receiving the nutrients he or she needs to be healthy, active kids. That's why Similac has designed a formula specifically for toddlers aged 12 to 36 months.
The Go and Grow formulas includes HMO, the immune-nourishing prebiotic (that is not made from human milk.) It also still contains DHA, lutein, and Vitamin E. These vitamins can be obtained from a diet rich in fish, spinach, and broccoli. What if your toddler doesn't like these foods? Use Go and Grow to make sure he or she is getting them through a different source.
Go and Grow is not an alternative to real food. Think of it more as a supplement, but your child will receive the nutrients he or she needs by drinking one eight-ounce cup of the formula per day. It has more nutrients in it than regular milk. Besides iron, your toddler will also receive their recommended doses of vitamins C and E.
Go and Grow has two times more calcium than a one-half cup of yogurt. It has thirty times more iron than one eight-ounce cup of whole milk. Go and Grow and three times more vitamin E than a one-half cup cooked broccoli.
The first five ingredients of the powder include nonfat milk, lactose, high oleic safflower oil, soy oil, and calactooliogosaccharides.
This Amazon listing is for a six-pack of 24-ounces of powder.
The sensitive version of Go and Grow can also be found on this listing. This easy-to-digest formula can help balance your toddler's diet while he or she tries foods for the first time.
Like the regular formula, this version of Go and Grow also contains DHA, lutein, and vitamin E. Plus, one serving of the sensitive version of Go and Grow has over 25 essential vitamins and minerals, along with at least 30 percent of the daily value of iron, calcium, and vitamins C and E.
In fact, the only difference between this version of Go and Grow and the regular version is that there is 96 percent lactose in the formula than whole milk. It contains soy and is thus suitable for toddlers who are lactose sensitive.
Since this formula is for toddlers instead of infants, the mixing instructions for this formula are a little different. Add eight ounces of water to a sippy cup. Add 1/3 cup of the formula powder to the water. If you are using the scoop that comes with the formula, you should use four unpacked, level scoops. Once the lid is on, shake the cup well. Like infant formula, have your toddler drink the formula within an hour of mixing.
Store the formula powder at room temperature. Use the opened container within one month.
The Sensitive version of the Go and Grow formula is available on Amazon and is sold in a 23.2-ounce container.
Go and Grow comes in other formulas other than the regular Go and Grow formula and the Go and Grow Sensitive formula. You can also purchase Go and Grow Mix-Ins. Plus, one can also buy a non-GMO version of the formula as well as a Go and Grow that is vanilla flavored. All of the formulas support brain, eye, and physical development, and all have the Opti-GRO blend.
---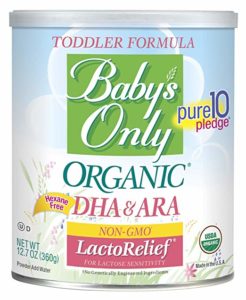 Check The Latest Price
CleanLabelProject.org rated Baby's Only Organic Non-GMO Dairy Formula best in class for purity and nutritional superiority. Apparently, this website tested over 500 different baby formulas and baby foods before handing out those distinctions.
Not only is the formula free of GMOs, but it also contains no corn syrup, palm oil, or hexane-processed DHA. The dairy version of this formula uses only milk from cows that are not given hormones or antibiotics. There are no harmful pesticides or fertilizers used in any of the other ingredients. Made in the U.S.A., Baby's Only formula also relies on BPA free packaging.
Now, let's talk about what is in this formula. Baby's Only includes the appropriate amount of protein and essential fats that are found abundantly in breast milk. It also contains the proper amount of vitamins and carbohydrates to help your baby grow.
Baby's Own revolutionized the organic formula industry when they introduced the first organic formula in 1999. The company is independently-owned, and thus they enjoy one hundred percent control over what goes into their products.
The first five ingredients of this formula are organic brown rice syrup, organic nonfat milk, organic high oleic oil, organic soybean oil, and organic coconut oil.
Like most of the other products in this listing, one scoop of the product is mixed per two ounces of water. Do not use the microwave to heat this or any other formula that you are giving to your infant.
This Amazon listing is for a 12.7-ounce container of Baby's Only Organic Formula. Customers can also purchase a six-pack of this formula, which would give them 76.2 ounces.
Baby's Only Organic DHA and ARA Dairy formula
The next option for this listing is the Baby's Only Organic DHA and ARA Dairy formula. This formula includes non-hexane-processed DHA in phospholipids fatty acids to aid your infant in his or her brain and eye development.
The DHA and ARA version of Baby's One formula comes with the Pure 10 Pledge. The pledge tells customers that the company will not use neurotoxic hexane, no algae or fungal oils, and no bleach or acid. It does pledge to support your infant's brain, eye, and nervous system development, and to use naturally-occurring choline.
The DHA and ARA version of the formula is slightly more expensive than the regular dairy version. It sells for $1.02 per ounce. One can also purchase a six-pack of the formula, which means you would receive 76.2 ounces.
Toddlers with lactose sensitivities can also enjoy Baby's Only DHA and ARA LactoRelief formula. This formula is for toddlers one year and older. This is designed for toddlers who show intolerance to lactose. Unlike many of these formulas, this formula does not include soy. Instead, the amount of lactose or milk sugar has been reduced in this formula by using a special enzyme process.
Like the other Baby's Own formulas, this powder contains no corn syrup or palm oil. Again, this formula does contain lactose, but it is just in a lesser amount than traditional formulas.
Customers can purchase the LactoRelief formula from this listing in a 12.7-ounce container. One can also buy a six-pack of this toddler formula, which would equal 76.2 ounces.
Non-GMO Soy Toddler Formula
Some toddlers cannot tolerate any lactose. Because of this Baby's Only also makes a non-GMO Soy Toddler Formula. This version is the best baby formula for toddlers with galactosemia or for toddlers in families who prefer a vegetarian diet. The soy and all other ingredients in this formula are certified USDA organic.
The first five ingredients in this formula include organic brown rice syrup, organic soy protein concentrate, organic high oleic oil, organic soybean oil, and organic coconut oil.
Like the other Baby's Own products, the soy version is available in a 12.7-ounce container or a six-pack of those containers, which would measure 76.2 ounces.
PediaSmart Organic Beverages
Baby's Own also sells other beverages to support your child's health and development. PediaSmart Organic Beverages can be used as a supplement for children who need additional calories in their diet. It contains 29 vitamins and minerals and seven grams of protein to give your toddler an extra dietary boost. PediaSmart contains 240 calories per serving and can be used for tube feeding if necessary.
PediaVance
Baby's Own also is there for you when your toddler gets sick. PediaVance is an organic electrolyte drink that prevents dehydration caused from fever, heat exhaustion, diarrhea, or vomiting. Like other electrolyte drinks, PediaVance promotes fluid absorption better than other beverages. No more giving 7-Up to your sick three-year-old.
Which is the best baby formula?
That depends. Several of the formulas on the list are made with all-organic ingredients. If this is important to you, then you would want to choose one of the many organic products on the list.
If you have done your research, and you think it is essential to purchase a formula with DHA and ARA, or if your doctor recommends those supplements, then you should buy a formula on the list that includes those. Of course, if your child shows signs of not tolerating lactose, you should choose a sensitive or soy version of the formulas.
What ingredients should you try to avoid?
Instead of telling you which the absolute best baby formula is, it may be more helpful to tell you what ingredients you should avoid in your baby or toddler's formula. Amazingly, all of the following ingredients have been found in some formulas on the market.
Avoid sugar. Sugar is hard to avoid in our diets. It is in everything from our bread and our ketchup. It is good to keep sugar away from your infant and toddler for as long as possible. Why encourage children to develop a taste for sugar at such a young age? Don't put sugar on their fruit or cereal. Don't reward a child with sweets. And certainly, do not buy a formula that has sugar as one of the top ingredients. Don't create a life-long addiction for your child. Protect them for as long as you can.
Avoid corn syrup, corn syrup solids, corn maltodextrin, glucose syrup, brown rice syrup, and sucrose.  Some of the formulas in this article have corn syrup listed as the first ingredient. While corn sugar offers calories to your child, it has very little other nutritional value. Corn syrup should be avoided in our diets as well. The ingredient has been linked to heart disease, obesity, high blood pressure, high blood sugar, and high serum triglycerides. Corn sugar is often used as the primary carbohydrate source in your infant's formula.
Glucose, sucrose, and fructose
On the same vein as avoiding corn syrups, it is a good idea to avoid sucrose, glucose, and fructose in formulas. While your baby's pancreas is designed to break down sugars, we don't know the long-term consequences of giving babies this much sugar in their formulas. Breast milk doesn't contain fructose, and if you would like your formula to mimic breast milk, you might want to avoid it in your list of ingredients.
Industrial vegetable oils
Avoid industrial vegetable oils, such as canola and vegetable oil. The processing of such oils may include bleach, deodorizers, and solvents.
Avoid milk made with synthetic nutrients. Some synthetic nutrients are processed with harmful chemicals. Manufacturers use them because it is the cheapest way to create nutrients for their formulas. Examples of synthetic nutrients include L-Carnitine, lycopene, lutein, taurine, L-methionine, and nucleotides. Most of these are banned in Europe.
Avoid palm oil. Even though formula manufacturers are trying to replicate a certain acid in breast milk by adding palm oil, it can lead to low bone density in infants. Palm oil is common in foods now, as the FDA became strict on trans fats within the last ten years.
Avoid sulfur dioxide, soy lecithin, and ascorbyl palmitate. Preservatives can aggravate food allergies in children. Preservatives and additives also create toxins in your baby's body that can affect the developmental milestones of your infant.
Avoid formulas with mineral oil. Mineral oil acts as a laxative for your baby. Sometimes the problem with an ingredient is less about the ingredient itself, but the problem may be with how it is manufactured. Alkalis, solvents, absorbents, and sulfuric acid are used to make mineral oil. This is why it should be avoided in your baby and toddler formula.
Just like everyone else in the USA, babies are going "gluten free." Actually, all babies have problems digesting gluten for at least the first year of their lives. These problems can cause your baby to have a backup in his or her digestive system. Wait at least a year to introduce gluten into your baby's diet.
Not that you would find it under an official list of ingredients in your baby's formula, but it is also good to avoid arsenic. Unfortunately, arsenic often comes attached to other foods like rice and oatmeal. While a small amount of arsenic is not necessarily harmful, high amounts of the substance can cause cancer.
Other Substances That Can Appear in Infant Formulas
While there are some ingredients that you should try to avoid, there are some toxic substances that may be lurking in your infant's formula that aren't listed on the back of the container. Pollutants cause these chemicals to be added to our environment, and they may be impacting your baby's health.
Everyone has small levels of perchlorate in his or her body. It is a natural chemical and exists everywhere in the environment, including breast milk. The problem comes when powdered formula and the water used to mix it have higher than normal amounts. Perchlorate affects the functioning of the thyroid, and to counteract the presence of it in formula, the CDC made it mandatory that all infant formulas add iodine to the list of ingredients as it helps reduce the amount of perchlorate.
Melamine has been found in cow's milk and thus made its way to baby formulas. Although the FDA says that the level of melamine is extremely low, six infants died in 2008 after drinking melamine-adulterated formula. Melamine is used to process plastics and adhesives.
Banned in Europe, the USA still allows carrageenan in infant's formulas. It is derived from seaweed and used in powdered products to stabilize them. Some studies show that it results in inflammation of the intestines and may cause colon tumors.
Dioxin is very difficult to avoid. It is a cancer-causing agent and endocrine disruptor, and yes, formula milk has contained this chemical. Breastfeeding moms also pass this chemical on to their babies with their breast milk. Dioxin causes heart disease, cancer, diabetes, endometriosis, and early menopause.
Lactose and carbohydrates in formula
Although many of us avoid carbs to watch our weight and help control our blood sugar, it is natural for carbohydrates to make an appearance in our baby's formula. The most significant carbohydrate source in breast milk is lactose. Since breast milk was designed with babies in mind, it is not surprising to know that all babies are born with the ability to digest lactose.
Some parents assume that if their babies become gassy and cranky on a traditional formula, that the baby must be lactose intolerant. This is not the case since lactose is part of breast milk. Instead, the discomfort your baby experiences may come from the protein in the formula, not the lactose.
Once again, lactose and carbohydrates are not the problem in your baby's formula. Lactose helps aid the absorption of calcium. Lactose helps feed the good bacteria in your baby's intestines.
Do not assume that if your baby is fussy that he or she has a problem with lactose and should switch to a soy formula. This is a common misconception and one that the formula industry does little to counteract. Yes, there are some babies with who do have an extremely rare disorder that keeps them from digesting lactose, but this is very uncommon.
When you need to change your baby's formula
What you thought was the best baby formula may not work so great for your little one, and there are certain signs to look out for that indicate the need to change your baby's formula.
Parenting can be challenging, especially if you are new to the scene. If you have never been around infants, you don't know what is considered normal behavior and what behavior should cause you concern. Everyone knows that it is common for infants to cry, but what is normal crying? What if your baby cries every hour? What if your infant cries so hard he or she is gasping? How do you know if your baby is crying because his or her stomach is upset as opposed to some other type of discomfort? The hard answer to these questions is that you won't know for sure. You will have to get used to your individual baby's moods and eventually you may feel more in tune to what your infant desires.
There are some signs that you can look for that may tell you if your baby is not tolerating the formula you have purchased for him or her.
You may need to be concerned if your baby vomits or spits up a large amount of formula after most feedings. It is normal for babies to spit up small amounts after eating. Vomiting is not as common. Consult your pediatrician if your baby is vomiting as it may be the result of an illness, or it may be caused by diet.
If your baby is not gaining weight, you may need to change formulas. When you have a newborn, you may want to purchase a digital scale that can show weight to the tenths or hundredths. Even though your doctor may want to see your newborn within the first weeks or month of their life, you may want to be able to check to see if your infant is gaining weight in between times. (Of course, you should not put the baby on the scale by itself. First, weigh yourself on the scale. Then, weigh yourself holding the baby. The difference should be how much the baby currently weights.)
Although it is common for babies to lose up to ten percent of their body weight after birth, they should continue to gain weight after we bring them home. If they are not, this may be cause for concern. Before making the decision to change formulas, consult with your pediatrician.
Although it may be difficult to determine, if your infant shows signs of abdominal bloating, this may mean that you should change formulas. If your baby's belly feels hard, or if touching the stomach causes the baby to fuss, this may be caused by discomfort caused by an inappropriate diet.
The difference between regular baby stools and diarrhea may be difficult to determine for new parents. While it is common for babies to poop up to eight times a day, it is not common for their stools to be watery or full of mucus. Bloody stools are also not common. If your baby's stools look strange for some time, you may want to consult your physician regarding changing formulas.
Rashes are also common for babies, but if your baby has an itchy, scaly rash, it may be the sign of a food allergy. The rash may appear on the face, scalp, arms, and legs. While a variety of substances may cause rashes, it may also be from an allergy to food. If your baby develops hives, it may also be related to diet.
Sometimes colicky babies become happier over time with no explanation. Sometimes the colic may be the result of a dietary issue. If your baby is between three weeks and three months of age and is fussy for several hours a day, especially during the evening hours, he or she has colic. If your baby is showing signs of abdominal distention, gas, and draws up his or her legs with abdominal pain, the colic may be a sign that a new formula is needed.
Twenty to twenty-five percent of babies with food allergies will begin wheezing. While not all babies with food allergies will wheeze, not all babies who wheeze will have a food allergy. Other respiratory issues such as nasal congestion and a runny nose may cause wheezing.
Go to the doctor quickly if there is blood in your baby's stool, blood in your baby's vomit, or your baby is severely wheezing. While there could be other health issues going on, these are also the signs of formula intolerance.
Can you see why it is difficult to understand when it is time to change your baby's formula? Your baby may show a variety of symptoms if he or she is not tolerating the formula you have purchased. Those same symptoms may be the result of other health-related issues.
Talk with your doctor if you suspect the symptoms may be food related. You may learn that your suspicions were correct if the symptoms disappear when you switch brands or types of formulas. Or perhaps the symptoms disappeared by some other coincidence. Welcome to parenthood. Once you feel like you have something figured out, your baby will change symptoms, and you will find yourself back at square one.
How do you switch formulas?
Many experts would say that switching formulas is ok if you switch to the same type of formula. For instance, if you are feeding your baby milk-based formula with DHA and ADA, and you want to switch brands to one with similar offerings, you probably do not need to consult your doctor. Sometimes you will receive samples that you would like to use, or a friend will give you some formula she no longer needs for her baby.
Consult a doctor if you would like to make a big switch between formulas, such as switching to a milk-based formula to a soy-based formula.
The benefits of breastfeeding for your baby
If your purpose for reading this article is to find the best diet for your infant, hardly anyone would recommend any of these formulas over breast milk. Even though these are some of the best baby formula options, nothing compares to a mother's natural milk. Breast milk is the best food source for your baby, and mothers who nurse their babies receive benefits as well.
Nursing protects against allergies and eczema. Of course, nursing your child is not a guarantee that he or she will not develop allergies or eczema. Studies have shown that the proteins in cow's milk and soy milk can stimulate an allergic reaction.
Nursing may help reduce the number of times your infant will suffer from diarrhea or constipation. Most children are born with the enzyme that helps break down the lactose that is in breast milk. Some formulas contain milk proteins that may cause your baby to have an upset stomach or other digestive issues. This does not mean that if you nurse your child, he or she will not have any digestive problems. Infants react to the foods their mothers ingest while they nurse.
Nursing helps reduce the number of infant illnesses. Incidences of a baby catching pneumonia, a cold, or receiving an adverse effect from a virus are reduced when a baby is breastfed. Formula-fed infants are more than three-times likely than a breastfed baby to have an ear infection, and they are up to five times more likely to have respiratory tract infections. Of course, this does not mean that your child won't get ill if you nurse your baby.
Nursing reduces the chance of hyperactivity in children. Children who are breastfed were less likely to be hyperactive by age three if they were breastfed for at least six months as a baby. This benefit disappears by the time the child becomes five years old.
Nursing your child may reduce the risk of developing some diseases. These diseases include spinal meningitis, type 1 diabetes, and Hodgkin's lymphoma. Nursing mothers pass white blood cells and immunity factors through their breast milk. This does not mean that if you nurse, your baby will not contract these diseases. This also does not mean that if your baby suffers from these diseases, and you did not breastfeed, it is your fault.
What breastfeeding cannot promise
A new study has shown that breastfed babies are not necessarily smarter than their formula-fed peers. While children between three and five years old who were breastfed did score a bit higher on a cognitive test than their formula-fed counterparts, it is not proven that the cause of the higher scores was from nursing. Instead, socioeconomic factors and the environment of the child may have caused the small gap in ability.
The benefits of breastfeeding for the mother
As it turns out, mothers also receive benefits from nursing their babies. Women who breastfeed have a decreased risk of developing breast and ovarian cancers than women who do not nurse their infants.
Nursing mothers also find it easier to drop the extra weight they may have put on during their pregnancy. Approximately 400 calories a day are literally sucked out of your body when you nurse a baby.
Your uterus stretches out when you go through a pregnancy. Nursing an infant helps trigger your uterus to shrink back to its original size four weeks faster than a mom who didn't nurse.
Some studies say that women who nurse have a lower risk of developing osteoporosis after menopause.
While nursing should not be used as a birth-control method, nursing delays ovulation. This means you delay menstruation and ovulation. Breastfeeding causes your body to release prolactin. This keeps estrogen and progesterone at bay, so no menstruation and ovulation are triggered. It is not wise to assume that this is a fail-safe form of birth control.
Breastfeeding is cheaper than feeding the best baby formula. As you can see in the Amazon listings above, formula is not cheap. There is also the added expense of bottles and bottle liners. There are some costs associated with nursing though. Some moms buy or rent an electric pump, so their babies have access to breast milk when the mom is not around. You also will buy nursing bras and possibly a nursing pillow.
The benefits of feeding your little one the best baby formula
When trying to choose whether to breastfeed or not, it is essential to understand that there are some benefits to feeding your baby formula.
Mothers who feed their babies formula have more flexibility and freedom within their schedules. If you are nursing your infant, you cannot leave your child for more than three or four hours at a time.
Pumping is a pain. Many nursing moms choose to pump and store their breast milk when they are away from their babies, but this takes lots of time and energy. Anyone who has pumped before can describe the difficulty of trying to find a clean, private place to use a breast pump. Sometimes it is difficult for those mothers to "let down" because she may be stressed that someone will walk in on her in this very vulnerable situation. Not only is pumping a mess, but it is also tricky to store your breast milk for later consumption. The milk needs to be stored at a constant temperature, and sometimes insulated bags with cooling packs fail to meet those requirements.
Nursing can be painful. Some mothers experience extreme discomfort while nursing. Nipples can become infected. Babies can gnaw or bite, which can be extremely painful. Sometimes babies nurse less for nutrition and more for comfort. If this is the case, the mother often becomes a human pacifier.
Nursing can be difficult. One would think that since women have been nursing their infants since the beginning of time that the process would be the most natural, easiest thing in the world. This is not true. Learning how to nurse can be difficult. Your baby may have a difficult time latching on to your nipple. You may have a difficult time relaxing enough for your milk to become available for your infant. There is a reason that every hospital and pediatrician can put you in contact with a lactation consultant. There are thousands of people across the country whose sole job is to help you and your baby become used to nursing. New mothers often even go to lactation classes. For a process that is supposed to be so natural, there are a lot of experts around to assist you.
Nursing can be embarrassing. When you first begin to nurse, you may feel extremely self-conscious about the process. We spend most of our adult lives making sure our breasts are covered, and when you begin nursing, it feels as if your breasts are out for all the world to see. Lactation consultants and nurses manhandle your breasts to get you and your baby in the right position to nurse. And then there is the leaking. Some nursing women's breasts will begin leaking breast milk at inopportune times. If you don't have a breast pad between you and your bra, your shirts will soon show the tell-tale signs of a lactating woman.
Nursing mothers don't get a break. Nursing mothers are in charge of all the feedings, including the feedings late at night. Waking up every three or four hours can be exhausting. Nursing moms may become resentful of their spouse who is quietly sleeping while you are up with the baby. Parents who feed their infants formula can have more equality in providing meals for the baby.
It is easier to keep track of data of a formula-fed infant. Nursing mothers often worry whether or not they are producing enough milk. Your baby may want to nurse more often than every three hours. Does this mean your child is not receiving enough calories during each feeding? What if your baby does not gain the appropriate amount of weight? Does this mean that your breast milk is not sufficient for your child? Parents who feed their infants formula know how much milk their babies are receiving. This is helpful information when communicating with your pediatrician.
Formula-fed babies may sleep through the night faster. Parents who bottle-feed their infants may encourage their infants to eat more in the late evenings. They may make a larger than usual bottle to make sure their infant's tummies are full. Babies with full bellies tend to sleep for longer periods of time than babies who self-regulate their feedings. More uninterrupted sleep equals happier parents.
Mothers who feed their infants formula can eat and drink whatever they want. Some nursing mothers notice their babies may become fussy if the mothers eat strong-tasting foods a few hours before nursing. If you feed your baby formula, you can eat whatever spicy food you want. You can also drink alcohol without it having any effects on the baby.
Regardless of how you decide to feed your baby, it is important to remember that it is a personal decision. A decision that is right for one family may not be right for another. Breastfeeding your child does not guarantee that he or she will grow up smarter or free from disease.
Even though it is hard not to worry about every aspect of parenting, try to enjoy your infant and toddler. Spend lots of time holding your baby. Even though your grandmother may tell you otherwise, there is no such thing as a spoiled infant. Infants need human connection and interaction. They need and crave your touch. Cuddle with them. Sing to them. Rock them. Smell them. Although having an infant is an exhausting time of life, your baby will grow so quickly. As soon as your child becomes mobile, he or she will begin to explore their surroundings, and they will not want to be held as much. Two and three-year-olds crave lap-time even less. School-aged children still need and enjoy your