Healthy Eyes | Steps You Can Take To Keep Your Eyes Healthy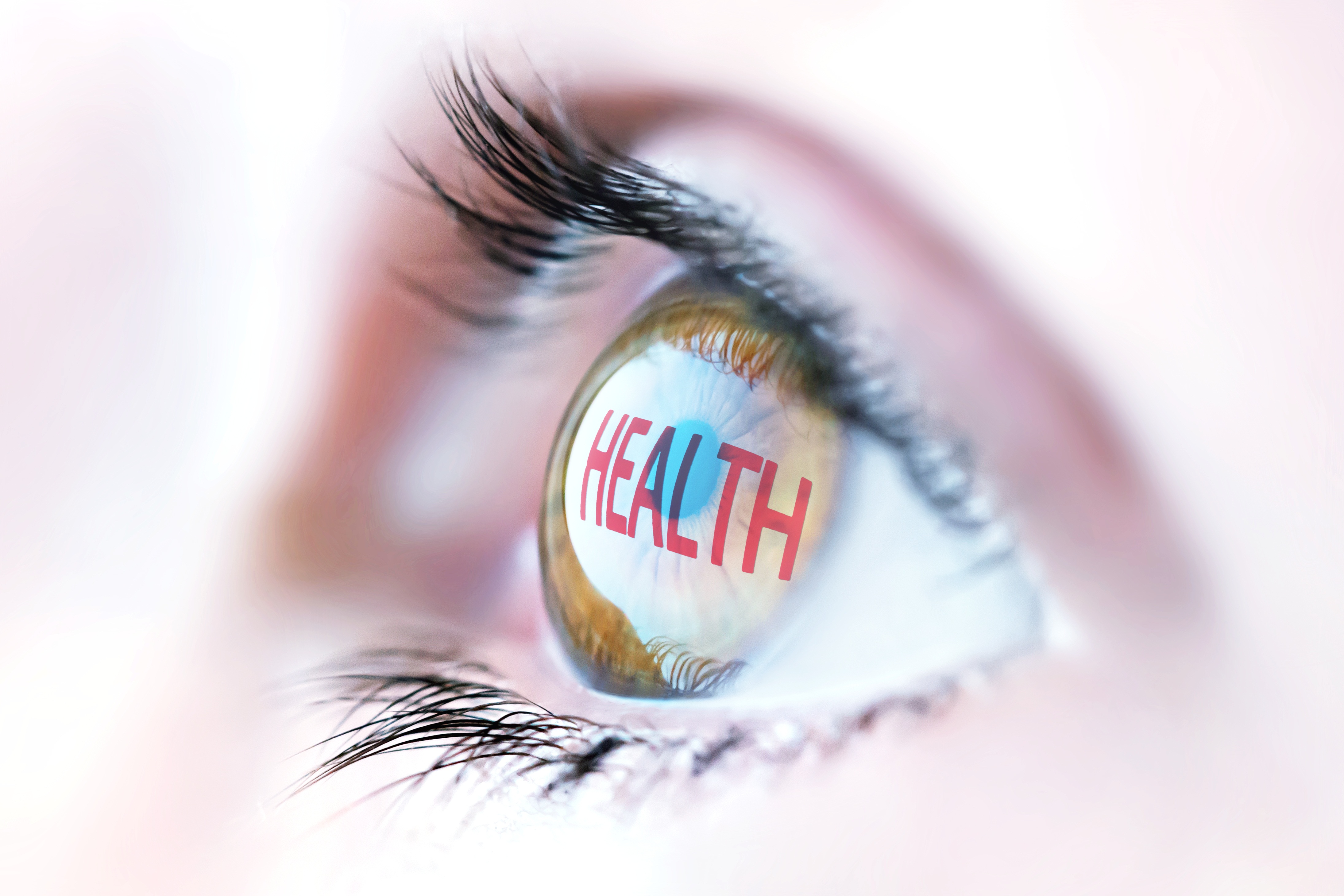 There are things you can do to protect and preserve healthy eyes throughout your lifetime.
You do yoga because you want to maintain your flexibility and strength as you age. You eat well so you don't gain excess weight, which can lead to diabetes and heart issues. Or maybe you drink plenty of red wine, even though you can't quite remember why it's good for you, but it was on the news, so there has to be some reason.
What do you do to maintain your healthy eyes? As we age, our eyes don't work as well as they used to. We have a difficult time reading small print. Cataracts and glaucoma threaten our vision. Our eyes become irritated with dryness. Even those who never struggled with sight before may find themselves needing glasses as they age.
Top Related Article: Holistic Healing Key Benefits
Why don't we do all we can to keep our eyes healthy? Don't you want to see your grandchildren's ballet performances? Do you want to be able to continue your favorite hobbies such as reading and sewing? Don't you want to be able to continue driving at night? Without maintaining the health of our eyes, the ability to do these activities is threatened. Read on to discover how to keep your eyes healthy for the years to come.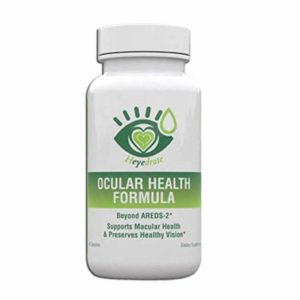 If you are not taking supplements to support your eye health, you need to start now. One such supplement is Eye Love's Ocular Health Formula. It is available for purchase on Amazon. There are three bundle options. Your first choice is purchasing a one-month supply of the Ocular Health Formula. A one-month supply is 60 capsules. Your second choice is to buy a one-month supply of the Ocular Health Formula with a one-month supply of Omega 3. You can also choose to buy a three-month supply of the Ocular Health Formula. If you select this option, you will receive three containers of the supplement rather than one large container.
What's in the Ocular Health Formula?
A serving size of two tablets includes the following:
20 mg of Vitamin B6
500 mg of Vitamin C
50 mg of Vitamin D
200 mg of Vitamin E
200 mg of Folic Acid
40 mg of Zinc
55 mg of Selenium
900 mg of Copper
20 mg of Alpha Lipoic Acid
20 mg of Grape Seed Extract
The formula also contains Lutein, Zeaxanthin, Astaxanthin, which are potent antioxidants that work with the previous list of vitamins and minerals to help maintain your eye health.
Know that you receive more than 100 percent of the recommended daily amount of seven vitamins and minerals from taking this supplement. These vitamins and minerals aren't only good for your eyes' health, but they are good for your overall health too.
What does taking Ocular Health Formula prevent?
Although no magic substance removes all chances of developing eye disease, this formula helps protect against age-related macular degeneration, cancer, and heart disease. If we were to just focus on the eye (get it? "focus?"), taking this formula improves the health of the retina, macula, and overall eye health.
The carotenoids included in this supplement also increase the overall macular pigment density in your eyes. This protects your eyes from harmful blue light coming from technology.
Don't forget: you can purchase the Ocular Health Formula in a bundle with Omega 3 tablets. Omega 3 fatty acids help maintain a healthy retina, lens, and macula.
When should you start taking Ocular Health Formula?
The product information says that the sooner you start taking supplements for eye health, the less likely you will get a degenerative eye disease.
Why purchase this formula from Eye Love?
Eye Love is a company owned by two eye doctors from South Carolina. For every bottle of supplement sold, they give an exam, sunglasses, and glasses to someone in need.
This company also offers a 100 percent satisfaction guarantee.
Top Related Article: The Importance of Eye Care And Protection
If you take Ocular Health Formula supplements, you will be able to see fine details even as you age. How disappointed you will be in seeing those details if that means you see all the wrinkles and fine lines around your eyes. Keep the exterior of your eyes young by using a firming cream every day.
---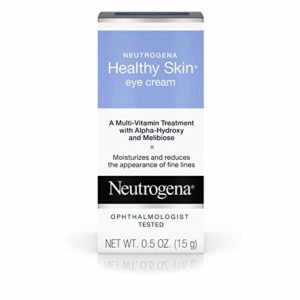 Neutrogena's Eye Firming Cream helps reduce the appearance of fine lines around the eyes. It also increases the firmness around the eyes, making you look younger than before you used it.
What are the active ingredients in Neutrogena's Eye Firming Cream?
Are you wondering what eases away the appearance of lines around your eyes? It is alpha-hydroxy acid. Melibiose, a natural sugar derivative, helps maintain the skin's firmness. Vitamins A, C, E, and B5 help keep your skin moist and pliable. There are even substances called optical light diffusers that help diminish the dark circles around your eyes. Other ingredients reduce the puffiness that often arises from allergies or tiredness.
How do you use this Neutrogena product?
As always, test this product on the inside of your wrist or behind your ear before using it on your face. If you happen to react with an ingredient in this formula, it would be easier to hide the reaction there as opposed to the skin around your eyes.
If no reaction occurs, pat a small amount around the eye area until the formula is absorbed into the skin. Do not rub. Use your ring finger and pat gently.
Customers can use this cream up to twice a day. It can be worn under makeup. In fact, wearing this under your makeup may help your eye makeup stay on better throughout the day. Avoid getting this product in your eyes.
This Neutrogena cream is fragrance-free and suitable for contact lens wearers.
The container holds .5 ounces, and customers can subscribe and save five percent with the original purchase and up to fifteen percent on auto-deliveries. How does this work? Choose five or more products to subscribe to in one month, and you could receive fifteen percent off all of those products.
Perhaps you would like to subscribe to other Neutrogena products that are recommended to use with this product. Other products recommended are the Fresh Foaming Cleanser, the Healthy Skin Anti-Wrinkle Cream SPF 15 for use during the day, and the Healthy Skin Anti-Wrinkle Cream Original Formula for night use.
---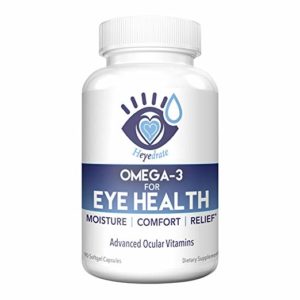 Those who enjoy puns may pick this eye care formula for its name alone. H"eye"drate's supplement gives users moisture, comfort, and relief for the eyes.
Using this formula for two weeks can help relieve dry, irritated eyes. Getting rid of those symptoms will make your eyes more comfortable and give you better vision. After taking this supplement, you should also be able to wear your contacts for a more extended period of time without them irritating your eyes. Taking fish oil supplements can reduce the number of times each day you need to stop what you are doing to use eye drops.
What are the active ingredients in this supplement?
Omega 3 for Eye Health contains the long-chain fatty acids, EPA and DHA. What is the difference? Well, that's complicated, but it is worth knowing when each type is needed in the body.
DHA is required for children to grow and develop. Children five and under and women who are pregnant or breastfeeding should have an adequate amount of DHA. The need for DHA drops off when a child nears the age of five, and the demand for EPA increases at this time. Both of the fatty acids are in this supplement.
The Heyedrate Omega 3 formula also has 50 mg of Omega 7, 50 IU of Vitamin E, 100 mg of Vitamin C, 10 mg of Vitamin B6, 20 mg of Magnesium, and 10 mg of Lactoferrin. You will receive more information later in this article to teach you how each of these vitamins supports your eye health. These vitamins and minerals work from the inside of the eyes to the outside to work as an anti-inflammatory substance. Inflamed eyes are dry eyes.
Why purchase the Heyedrate Omega 3 formula?
The soft gel pills are small and easy to swallow. They come with a protective coating that eliminates fishy burps from erupting from your mouth mid-morning. Your co-workers will be happy that you chose a fish oil pill with a protective coating.
The makers of these pills also offer a 100% satisfaction guarantee. If you are not happy with this supplement, you can return it for any reason and receive your money back.
And finally, a portion of every purchase goes to providing eye care to those in need.
---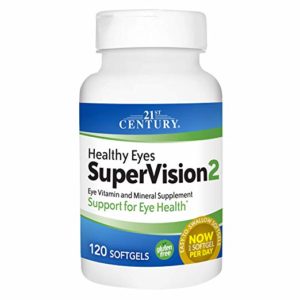 Another company is also selling soft gels for healthy eyes on Amazon.
Purchase one or two bottles of 21st Century Healthy Eyes SuperVision 2 soft gels or subscribe for it on Amazon. If you subscribe to at least four other products within one month, you could save up to fifteen percent on this product as well.
What are the active ingredients in SuperVision2 Softgels?
These soft gels feature a blend of vitamins and minerals including Vitamins C and E and zinc. Other ingredients include rice bran oil, gelatin, glycerin, water, beeswax, sunflower lecithin, and caramel.
How do these ingredients improve your eye health?
The manufacturer says this is a high-potency anti-oxidant formula. It can be compared to Bausch + Lomb PreserVision AREDS 2 Formula.
How do you take SuperVision2 Softgels?
Take one gel in the morning and one gel in the evening, each time with a meal.
---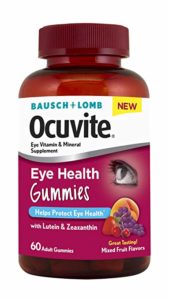 The final eye health supplement is Bausch + Lomb's Ocuvite Eye Health Supplements. Unlike the previous products, the vitamins and minerals are in gummy form and come in "natural" flavors.
Why should you take Ocuvite?
The ingredients found in Ocuvite are not found in a traditional multivitamin, and many people's diets are not varied enough to receive the needed nutrients that way. Ocuvite contains a high level of essential antioxidants that are important for maintaining and improving eye health.
What is in one serving of Ocuvite?
100 IU of Vitamin A
200 mg of Vitamin C
60 IU of Vitamin E
40 mg of Zinc
55 mcg of Selenium
2 mg of Copper
2 mg of Lutein
While most of these benefits may sound familiar, you may not know what is essential about taking 2 mg of Lutein per day. Lutein is a powerful antioxidant needed in the part of the eye called the macula. The body cannot produce lutein, so it must be obtained through diet and/or supplements. Lutein works hard to filter the harmful blue light that comes from electronics.
How do you take Ocuvite?
Take two gummies daily. One bottle contains sixty pills, so this means that one bottle should last you one month.
Which supplement is the best? It is tough to say. If you have an issue swallowing pills or you hate the fishy burp aftertaste that sometimes comes with Omega 3s, consider purchasing the Ocuvites. Otherwise, take time to look at how much of each vitamin and mineral is included in each serving of the pill. Assuming the quality is the same from product to product, it only makes sense to purchase the supplement that gets the most bang for the buck. Pay attention to the serving size when making this determination though.
What are other ways you can keep your eyes healthy for as long as you need them? Read on to discover tips for maintaining healthy eyes. You will not be surprised to learn that many of the suggestions not only will help with your eye health but also your overall health.
Get an annual eye exam
Have you ever heard the phrase "You don't know what you don't know?" The same is true when your eyesight gradually worsens. You may see worse than you realize and may need corrective lenses without knowing it. Many times, people leaving the eye doctor with glasses for the first time are amazed by what they are able to see.
Top Related Article: How To Prevent Eye Strain
But there are other reasons for getting an annual eye exam. Eye doctors also check for eye diseases and can also tell if you have signs of other health problems by looking at the health of your eyes.
If a patient has eyes that seem to bug out, are nervous, and have experienced unexpected weight loss, they could be suffering from Grave's disease, which is also known as an overactive thyroid.
If your doctor notices a gray ring around the edge of the cornea, he or she might encourage you to get blood work done to check your cholesterol and triglyceride levels. The gray circle may indicate that you have high blood lipid levels. Fatty blood may increase your risk of a stroke or heart attack.
Although this disease is not common, myasthenia gravis can be deadly. Sometimes diagnosed by a person's eye doctor, it shows itself by the patient having droopy eyelids on both sides.
Doctors can see if their patient is experiencing high blood pressure by looking at the person's retina. The tiny blood vessels in the eye kink and twist when a person's blood pressure is too high.
Eye doctors can also see signs of AIDS, diabetes, and lung cancer that has spread.
Ophthalmologists, Optometrists, and Opticians
And while we are on the subject of eye doctors, what are the similarities and differences among these three occupations?
Ophthalmologists are medical doctors who specialize in eye health and vision care. They can perform surgery, treat eye disease, and fit eyeglasses and contact lenses to correct someone's vision problems. They have graduated from college plus received eight additional years of medical training.
Optometrists are not medical doctors. They receive a doctor of optometry degree, which means they went to four years of optometry school after taking three or more years of college. While they are licensed professionals, their primary function is prescribing corrective lenses, detecting certain eye abnormalities, and prescribing medications for certain eye diseases. Optometrists receive a doctorate, but they aren't medical doctors. They probably won't complain if you call them a doctor, though.
Opticians fit eyeglasses and contact lenses on patients, but they do not test a patient's vision or write prescriptions. They do not treat eye diseases. Opticians are trained professionals, but should not be called doctors.
---
When should you visit an eye professional?
The short answer to this question is that you should go annually. If you have been diagnosed with AIDS or HIV, diabetes, high blood pressure, or thyroid disease, you should also make an appointment with your ophthalmologist as well to make sure that the conditions affecting other parts of your body are not harming your eye health.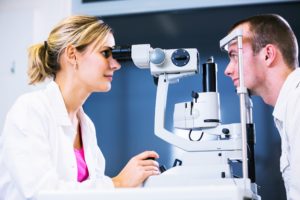 If other eye symptoms appear, you should make an appointment. Go visit a professional if you have a dark curtain that blocks your vision or if you are experiencing double vision or distorted vision. Visit the doctor if your eyelid seems abnormal or if you see colored circles around lights. Make an appointment if you see floaters or flashes of light, or if your eyes are unusually red. Always go to the doctor if you can't see or if you have a pain in your eye.
Stop smoking
Everyone and their uncle knows that smoking is bad for the body, but how does smoking specifically affect your eye health? People who smoke are more than twice as likely to form cataracts on their eyes.
Smokers are three times as likely to experience macular degeneration as well. Macular degeneration causes blind spots in the eyes.
Smokers often experience inflammation of the middle layer of the eye. This can cause cataracts, glaucoma, and retinal detachments.
Smoking doubles your risk of developing diabetes. Diabetes affects the eyes adversely.
Besides developing serious and life-altering eye diseases, smoking causes eye discomfort as well. Smokers may experience eye redness, itchy eyes, and the feeling that a foreign body is floating around in their eyes. As if you needed another reason to stop smoking, here is one. Do it for your eyes.
Wear sunglasses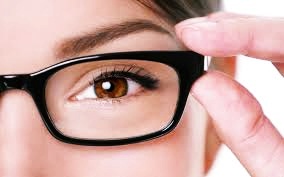 Besides making you look super cool, sunglasses protect your eyes from the sun's UV rays. Why is this a big deal? UV rays can cause cataracts and cancer. Also remember that if you are taking medication that says it may cause you to have a sensitivity to the sun, that same medication will probably affect your eyes as well.  
Of course, your eyes could be additionally protected if you wear a brimmed hat as well. UV rays can enter your eyes from any angle. A brimmed hat would help keep your eyes healthy along with wearing super cool sunglasses.
How do you pick sunglasses?
Not all sunglasses are the same, but you don't have to break open the piggy bank to purchase a pair that completes the job. Look at the labels before buying a pair of glasses.  A good pair of sunglasses should block 100 percent of UVA and UVB rays. This may be called UV 400. Make sure your sunglasses are polarized. Polarized sunglasses cut down on the amount of glare that affects your eyes.
Use safety glasses
Wear safety glasses if you work in construction, manufacturing, mining, carpentry, plumbing, welding, and auto repair. Also wear glasses if you work with chemicals or in a lab, or if you work in a place where another person's body fluids may splash into your eyes. For those of you who sit behind a computer for a living and think that you never would need safety glasses, do you mow your own lawn? If you use a weed eater to trim the grass around your sidewalk, you should be wearing safety glasses. It only takes one second for something to get lodged into your eye. It only would take one second for your life to change forever.
Limit your time staring at a screen
While it may be harder than we care to think, limiting your screen time can keep your eyes fresher and healthier. This can be tricky. Many of us use computers for work, communication, and entertainment.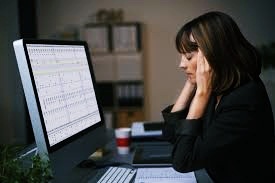 Since it is not easy to limit the amount of screen time we get each day, follow the 20/20/20 rule. Every twenty minutes you are looking at a screen, take a twenty-second break and stare at something twenty feet away. In fact, take it a step further. Since sitting a long time is harmful on the body, if you sit at a computer for your job, set a timer for twenty minutes. Every time your timer goes off, stand up and walk somewhere. Not only will your body get a break from sitting, but your eyes will get a break from the screen at the same time. Your eyes will only receive a break if you don't spend your time staring at your phone screen. Look outside. Talk with a co-worker. If you work from home, change out your laundry. Let your dog outside again.
Top Related Article: Eye Strain Causes
Another way to keep your eyes healthy is to remember to blink more often. Studies have shown that when we stare at a screen, we tend to blink less. Blinking is our body's way of naturally refreshing the eyes.
While we are still on the subject of computer screens, you need to be aware that your screens may be emitting a light that is causing additional strain on your eyes. This light, which is measured between 380 and 470 mn, is in the blue spectrum. While this light is necessary to help adjust the brightness on your computer's screen, it can also be hard on your eyes. To keep your eyes healthy, you may consider purchasing computer glasses. Computer glasses are usually tinted yellow or orange. These colors naturally filter out the harmful blue lights.
Eat the right diet
Another way to keep your eyes healthy is to eat the proper food. For the most part, a diet that is considered healthy for your eyes is healthy for your body as well.
Vitamin A
Vitamin A is essential in maintaining healthy eyes. It can come from two sources. The animal-derived source of vitamin A is called retinal. It can come from beef and chicken liver, whole milk, and cheese. The plant-based version of Vitamin A is called carotenoids. It comes from colorful fruits and vegetables such as carrots, sweet potatoes, spinach, kale, and cantaloupes.
Vitamin A helps protect the surface, or the cornea, of the eye. A lack of vitamin A causes the cornea to become dry and uncomfortable. It can also lead to the clouding of the front of the eye, corneal ulcers, and vision loss. If you have a vitamin A deficiency, you could also damage your retina. This can cause blindness.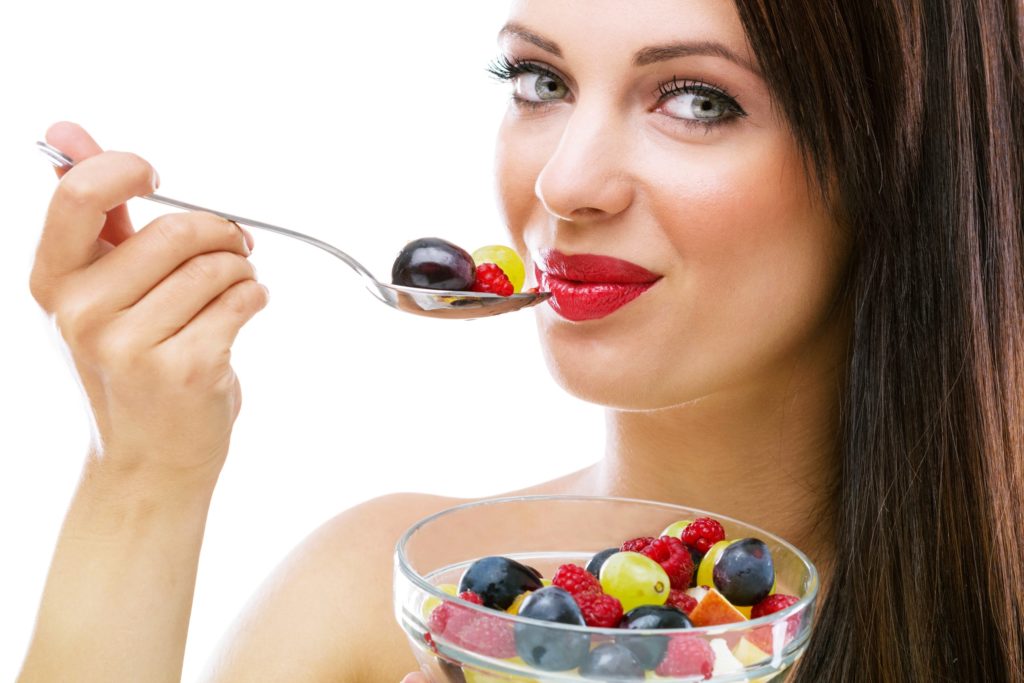 Vitamin E is also recommended to maintain good eye health. It is found in nuts, seeds, salmon, avocados, and leafy green vegetables.  Vitamin E is an antioxidant that protects eye cells from free radicals.
Drink your daily cup of orange juice to keep colds away, and to maintain the health of your eyes. Orange juice isn't the only way to get a high amount of Vitamin C. You can also get it from citrus fruits, bell peppers, broccoli, and kale.  Vitamin C, either received naturally or by taking supplements, may reduce the risk of cataracts by 45%.
The B Complex vitamins, including B6, B9, and B12, can be found in animal liver and kidneys and clams. Are you worried that you aren't getting enough of this in your diet? Thankfully, you also get B Complex vitamins from tuna, eggs, and dairy products. If you are vegan, you might want to make sure you are getting enough B Complex vitamins in your diet.
B vitamins can lower your level of a protein in your body that helps fight inflammation. And if you have learned anything about nutrition in the last five years, we all know that inflammation causes all sorts of health issues.
Top Related Article: What is A Holistic Nutritionist? Learning About Your Nutritional Coach
Riboflavin is one of those vitamins that everyone has heard of, but no one knows much about. Riboflavin is actually a B vitamin (B2). Get your riboflavin by eating oats, milk, yogurt, and beef.
Riboflavin reduces oxidative stress in your eyes. Some think that a lack of this vitamin could increase the likelihood of cataracts.
Niacin comes from peanuts, beef, chicken, fish, and legumes. And yes, it is important to have a source of niacin to maintain the health of your eyes. Besides acting as an antioxidant, Niacin also prevents glaucoma. If you have glaucoma, the optic nerve of your eye becomes damaged.
This article has already discussed the need for lutein and omega 3s in your diet. What about zeaxanthin? Even though your body does not need a lot of this vitamin, it can be found in fruits and vegetables. It is especially prevalent in cooked spinach, kale, and collard greens.
Both lutein and zeaxanthin are carotenoids. They are found in the macula and retina and help filter that previously mentioned blue light that comes from screens. The carotenoids can also reduce your risk of cataracts.
Thiamine can be found in whole grains, meat, and fish. It is located in foods like bread and pasta. How wonderful to hear that there is an essential vitamin we need in maintaining eye health that can be found in bread and pastas! The next time you eat a big pile of fettuccine alfredo, just tell the people judging you that you have to do it for the health of your eyes.
Thiamine plays a part in proper cell function. It seems to help reduce the risk of cataracts, even though Vitamin A, niacin, and riboflavin also have that function as well. Eat your pasta. Long live Thiamine!
Remember, the things you do to maintain your eye's health, will help you manage your overall health as well. Take a break from your screens. Eat colorful fruits and vegetables (and fettuccine). Take supplements and take care of the skin around your eyes. You will look better and feel better too.